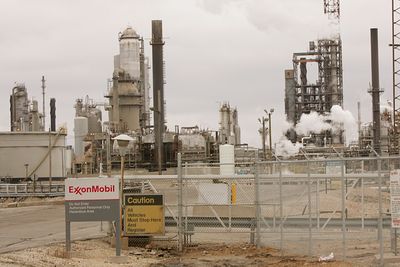 Getty Images
Potential budget cuts and production expectations take front and center when Exxon Mobil reports Monday.

Exxon Mobil Corp. is scheduled to report fourth-quarter earnings before the market opens on Monday.
But safe to say few investors will pay that much attention to Exxon's XOM, -3.30% past performance. After all, crude prices averaged more than $70 a barrel in the fourth quarter, compared to prices under $45 a barrel this week.
Instead, capital spending plans — how much money Exxon will spend and where it will go — and production going forward are key issues, said Brian Youngberg, an analyst with Edward Jones.
Lower crude prices have forced many energy companies to announce budget cuts and even layoffs, but both Exxon and rival Chevron Corp. CVX, -4.20% have kept mum on any adjustments they might make to compensate for falling prices.Chevron reports earnings on Friday.
Wall Street expects crude prices to stay under pressure at least through the first half of this year, as the double punch of a global oversupply and weak demand continues.
The rout in oil prices, which accelerated in late November after the Organization of the Petroleum Exporting Countries decided to stay pat on production, have cut prices nearly 60% from a 2014 peak hit in June.
Here's what to expect when Exxon reports:
Earnings: Exxon is forecast to report earnings of $1.36 a share in the fourth quarter, compared with $1.91 a share a year ago.
Revenues: They are expected to hit $87.43 billion in the quarter, down 21% from the $110.86 billion reported in the fourth quarter of 2013.
Stock reaction: Shares of Exxon have lost 7% in the past 12 months, and 3.8% so far this year. That compares with losses of 10% and 4.6%, for the last 12 months and year-to-date, respectively, for energy companies on the S&P 500 Index.
Wall Street has, on average, an overweight rating on the stock, according to FactSet. The average price target of $96.50 a share, an upside of nearly 10% over Wednesday's close.
What to watch for: Besides any general announcements around belt-tightening measures, production levels will also be a focus.
Exxon's output has fallen slightly under 4 million barrels of crude a day in the past two quarters, and analysts polled by FactSet expect the company to report production of 4.14 million barrels a day on the quarter, from $4.22 million barrels a day in the fourth quarter of 2013.
Wall Street will also want to know whether Exxon will cut or reduce its share buyback program, although the company is more likely to keep it untouched, Youngberg said.
Claudia Assis