DAILY PRICES
Today's
Gold Prices: USD 1125.00, EUR 1009.87 and GBP 737.94 per ounce.
Yesterday's Gold Prices: 1130.05, EUR 1005.88 and GBP 739.63 per ounce.
(LBMA AM)
Gold
was 0.8% lower yesterday and closed at $1125.40 per ounce, down $8.20 to go
0.6% lower for the week. Silver was flat and again closed at $14.69 per ounce
but is nearly 1% higher for the week.
Will Uncle Sam Confiscate Gold Again?
Investors suffered financial losses in recent
weeks as stocks globally came under pressure in August and had their worst month in the last three years.
In one of the most volatile trading periods since the global financial crisis,
August saw a massive $5.7 trillion erased from the value of stocks worldwide.
No major stock market was left unscathed and the risk of financial and economic
contagion became evident again.
There are growing concerns internationally that
in the event of another Wall Street or global stock market crash and a new
systemic crisis – a Eurozone debt crisis or another  Lehman Brothers collapse – there could be
enforced bank closures or extended bank holidays in the EU and U.S. as seen in
Greece recently.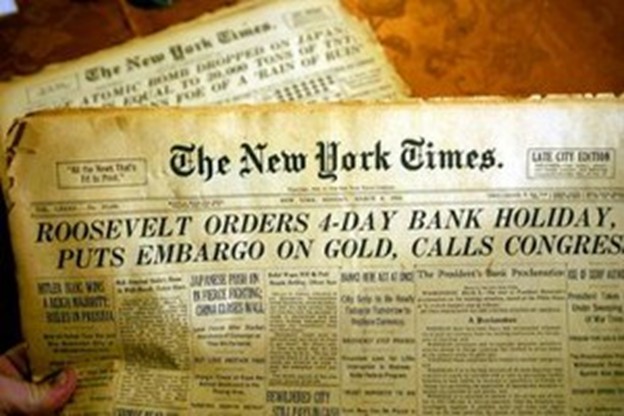 Read more on the GoldCore.com blog
IMPORTANT COMMENTARY
Gold retains 2-day decline ahead of U.S. jobs data – Reuters
Perth Mint's gold, silver sales drop in August but robust – The Economic Times
UPDATE 1-Supervisors should not tell whole truth about bank health -BuBa economist – Reuters
Best Ever August for Bullion Silver Eagles – silvercoinstoday.com
Gold fever hits Poland with possible discovery of Nazi train – Yahoo News
IMPORTANT COMMENTARY
Gut is telling me that this is a bear market – Frisby – MoneyWeek.com
These Are a Few of the Stock Charts That Spook Louise Yamada – Bloomberg TV
Why Are Foreign Countries Repatriating Gold From US Federal Reserve? – Sputnik
Death Crosses Everywhere; Time to Buy Gold Yet? – Barron's
Your savings are at risk – Tim Price – MoneyWeek.com
Read more News and Commentary
Download Essential Guide To Storing Gold Offshore