Last week we noted that even as low-income Americans conspired to ruin what might have otherwise been a perfectly good March UMich Consumer Sentiment print, there were still plenty of signs that some folks are doing ok such as the fact that the President still gets to spend $4 million in taxpayer dollars on jet fuel to go to Honolulu for Christmas. In what looks to be further evidence that the first family won't be needing to take out a deep subprime loan from Santander Consumer anytime soon, Michelle Obama touched down in Tokyo yesterday in high style. Here's more from the Huffington Post:
Wearing a lime green printed dress from Kenzo's Fall 2014 collection, it was a great outfit choice considering the luxury brand has strong Japanese roots.

 

FLOTUS accentuated the Kenzo dress with a metallic gold wide belt that drew attention to her waist and black leather heels, toning down the busy ensemble.

 

It's pretty clear that green and interesting prints are Mrs. Obama's travel style go-tos, but this full-skirted silhouette that harkens back to the '50s is one of our favorites.
What's also "pretty clear" is that US diplomats still haven't quite figured out how to greet Japanese officials and as you can see from the video below, the old "trip-handshake-bow" still doesn't play particularly well, especially when the height disparity is so great as to be virtually impossible to politely ignore: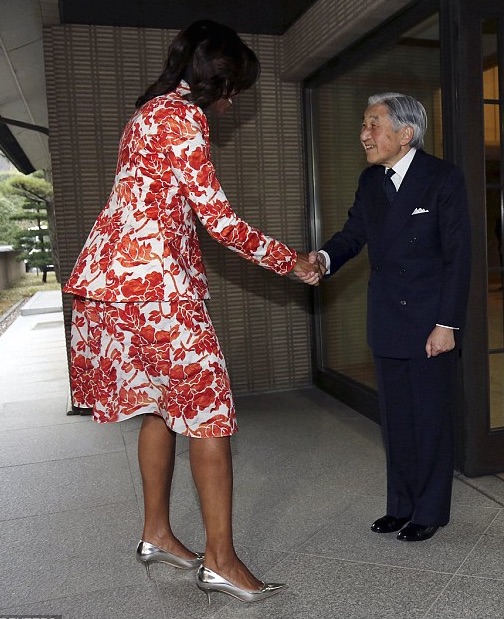 More from DailyMail:
The First Lady, dressed in a florid combination of a blazer and skirt, dwarfed the Emperor in her silver stilettos, while he maintained his composure and smiled politely. She then squatted slightly while shaking his hand, seemingly trying to disguise the difference of height between them.

 

Mrs Obama, who is 5ft 9in tall, also caused embarrassment earlier in the day when she grabbed Akie Abe, wife of Japan's Prime Minister Shinzo Abe, in a hug-and-handshake combination while the Japanese First Lady was trying to bow. 

 

Excessive physical contact is frowned upon in Japan, and strict traditions govern the practice of bowing. Despite intensive etiquette coaching, successive U.S. officials have famously got it wrong.

 

In 2009, President Barack Obama was was photographed bending to nearly a 90 degree angle when he greeted the Japanese Emperor at the Imperial Palace.

His efforts were widely mocked. The Drudge Report ran a banner headline reading 'Obama bows before Japan's emperor', and the LA Times ran a story headlined 'How low will he go?'

 

In another example of over-enthusiastic bowing, the President was pictured bowing to a robot in 2014 while the Japanese people around him remained upright.

 

In 1994, then-President Bill Clinton went to the other extreme, causing offence by inclining his head and shoulders forward and mysteriously pressing his hands together when he met the Emperor.

 
...and then there was this, which looks to be the First Lady's own interpretation of the classic "gut-punch-handshake-hug"...