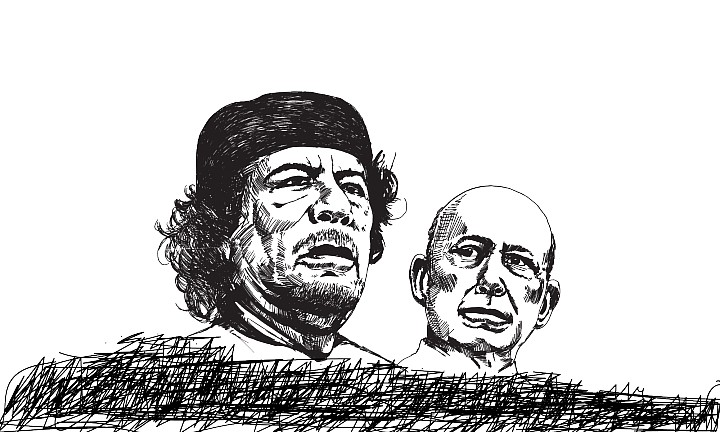 When Wall Street's most aggressive bank took on the world's most incendiary client, someone was going to make a killing.
Illustrations by 731, based on photographs by Max Rossi/Reuters (Qaddafi) and Eric Piermont/AFP/Getty Images (Blankfein)
Moammar Qaddafi's Libya was a miserable place for a business trip.
In 2008, a few years after renouncing its nuclear and chemical weapons program, the desert nation remained a menacing and ugly place, with cratered highways, awful restaurants with no booze, and Qaddafi's leathery visage everywhere, staring balefully down from billboards. The dreary capital, Tripoli, sat at the edge of the Sahara, in the least barren sliver of a country defined in the West by dictatorship, terrorism, and billions of dollars' worth of oil.
Goldman Sachs's Youssef Kabbaj was one of the few that enjoyed the commute. A securities salesman based out of the bank's London headquarters, Kabbaj found that Libya reminded him of his native Morocco, and he considered the ruins in Tripoli's old quarter enchanting. The city had a single decent hotel, the Corinthia, a crescent hulk the color of sand, and that year Kabbaj was such a frequent guest that he stored a rack of pressed suits there at all times. With slick black hair, round cheeks, and a mischievous smile, he was fluent in English, French, Arabic, and the language of international finance.
Qaddafi's peaceful turn had reopened Libya to Western banking for the first time in two decades. Its $60 billion in oil wealth, no longer dammed up by international sanctions, was ready to flood into the market, as directed by the Libyan Investment Authority, Qaddafi's brand-new sovereign wealth fund. With his North African pedigree, Kabbaj had been one of the first at Goldman to spot the opportunity. The LIA had become his biggest client, transforming him in a year from rookie salesman into possibly the No. 1 rainmaker at the world's most profitable investment bank. He was 31 years old.
On July 23, 2008, Kabbaj was in his room at the Corinthia, waiting anxiously for his mobile phone to ring. It finally did around 9 a.m., and he grabbed a pen and paper to take notes. On the line was Michael Daffey, a senior Goldman executive in London. Daffey praised Kabbaj's work in Libya and said that after some negotiation, the bank was willing to guarantee him $9 million in pay. It was an astonishing sum, even at Goldman.
Kabbaj immediately asked for more. He knew he'd been instrumental in extracting an unusual amount of money from a highly unusual client. Who else on the planet could sell a billion dollars of derivatives to a regime whose theatrical despot slept in a tent under an all-female warrior guard?
By now Kabbaj was running late, and Nick Pentreath, a South African colleague on one of his first trips to Libya, was knocking on his hotel room door to hurry him up. They'd been summoned to a late-morning meeting by the LIA's deputy chief executive, Mustafa Zarti, a Qaddafi family friend. Zarti kept a ceremonial sword mounted above his desk—and was rumored to wave it around before visitors who displeased him. The markets were scary enough that summer. Bear Stearns, an American investment bank, had collapsed in March, and there were rumors that Lehman Brothers could be next. Zarti wanted Kabbaj to give him an update on Libya's portfolio at Goldman.
Pentreath and Kabbaj took a short taxi ride to the Al-Fateh Tower, a two-pronged structure of stupendous ugliness that loomed over Tripoli in a style that might be called totalitarian postmodern. The LIA's offices were on the 22nd floor. Usually, Kabbaj was shown right in, but this time he and Pentreath were kept waiting for what felt like hours, watched over by an oversize portrait of Qaddafi in military garb. Something wasn't quite right. Finally, as Kabbaj was called into a boardroom next to Zarti's office, he recognized three bankers from the French bank Société Générale—Goldman's main rival for the LIA's cash. He saw with alarm that they were holding term sheets for Goldman deals and grinning at him as he walked past.
Kabbaj steeled himself and began to address Zarti. The LIA's day-to-day chief was 38, with plump features, thinning black hair, and a Marlboro Red forever at his lips. He glowered as Kabbaj said that Goldman had some great new trading ideas. Zarti cut him off, saying he wanted to talk about deals that had already been done. Kabbaj started drawing on a whiteboard, running through basic concepts like how options could be "in the money" or "out of the money," and Pentreath began a technical explanation of the derivatives.
Zarti again interrupted. "Youssef," he said, "I'm asking you." Before Kabbaj could say much more, Zarti exploded. Screaming in a mix of English and Arabic, he accused Kabbaj of deceiving the LIA into deals it didn't understand. He called Goldman "a bank of Mafiosi" and said that he could behave like a Mafioso, too. He stormed out of the room, leaving Kabbaj, Pentreath, and a clutch of LIA staffers in a Marlboro haze.
Shaken, Kabbaj asked Zarti's aides what had just happened. None had an answer. After a few minutes, Zarti burst back in, angrier than ever. Catherine McDougall, an Australian lawyer who was in the office that day, later recalled Zarti's words as along the lines of "F--- your mother, f--- you, and get out of my country." Kabbaj and Pentreath packed up their things.
Zarti followed them into the corridor. If Kabbaj didn't make amends, he shouted, "we will go after your own family in Morocco!" The Al-Fateh Tower elevators were agonizingly slow to arrive. "What are you still doing here? Get out of my building!" Zarti screamed. He told Pentreath that if he didn't get in the lift soon, he'd throw him out the window.
Kabbaj was white with shock. Zarti had saved his most chilling remark for him. "You are only a Moroccan here in Libya," he said. "I can make you disappear, and nobody will ever hear back from you."
The story of Goldman's seduction of Libya—based on court evidence, testimony from witnesses, and interviews with people who were involved in the transactions—is as brief as it was costly. Barely 12 months elapsed between Zarti's first tour of the bank and his threat to murder its brightest young star, and Libya wound up losing $1.2 billion. Goldman enjoyed its payday, the exact size of which it has never disclosed. But whatever the level, the matter is now before a London judge, and the Libyans have a chance to extract an even more damaging toll.
For 65 million years, a mile beneath what's now the Libyan Desert, the supercompressed remains of billions of dinosaurs, plants, and other Cretaceous organisms have been gently cooking into crude. Human ancestors were using tools in the region 200,000 years ago, and early civilizations came to be conquered in turn by the Phoenicians, the Greeks, the Romans, and others in a chain of foreign rule that reached the modern era. Italy relinquished Libya after World War II, and the nation declared independence in 1951. Eight years later, Western drillers struck what remain the largest oil reserves in all of Africa.
In 1969, while Libya's U.S.-allied king was out of the country, a strikingly handsome young military officer pulled off an ambitious coup. Initially, Moammar Qaddafi ruled as a garden-variety Arab nationalist, like those who'd recently taken over Egypt, Iraq, and Syria. He gradually became more erratic, writing checks to the Black Panthers and Red Brigades and declaring himself supreme leader of the Great Socialist People's Libyan Arab Jamahiriya. By the 1980s, Qaddafi seemed to relish his image as a villain out of a Chuck Norris movie, blamed for a Berlin nightclub bombing, targeting U.S. servicemen in the region, and downing a Pan Am jet over Scotland, killing 270 people. Ronald Reagan called him the "mad dog of the Middle East," an image that stuck even as Qaddafi extended his canny rule into the 21st century.
U.S.-led sanctions steadily crippled the Libyan economy. Then, in 2003, Qaddafi watched American troops invade Iraq and drag a filthy Saddam Hussein out of a spider hole. A few days later, Qaddafi offered to give up Libya's WMD programs. Eager to reward good behavior, the U.S. eased sanctions, restoring full relations in 2006. Qaddafi might have been a brutal tyrant who forced citizens to study his Green Book, but he was abruptly a man the West could do business with. So complete was the reversal in his fortunes that on one visit to New York he struck a deal to pitch his Bedouin tent on the Westchester County lawn of Donald Trump.
The reemergence of Libya, and its vast oil wealth, coincided with an era of nearly unbridled avarice on Wall Street—and nowhere more so than at Goldman Sachs. The same year that Qaddafi established the LIA, Goldman posted the largest profit in Wall Street history. The bank paid employees an average of $622,000, with many times that amount available for bankers who nailed down the biggest deals. A stupendously wealthy petro state desperate to buy into a bull market was a dream client—the kind of "elephant," in Goldman argot, that could make careers.
Kabbaj joined Goldman's London office in 2006. Born to a wealthy Rabat family, he'd attended the elite Lycée Louis-le-Grand in Paris, going on to a degree in engineering at MIT. Goldman hired him after a stint at a Moroccan bank, initially offering Kabbaj a job as one of its "quants"—the math whizzes who devise algorithmic trading strategies behind closed doors. He insisted on a role in sales, convinced he could climb the ladder faster by being close to clients. The only available post was on a team covering Africa—at the time, a backwater within the firm that generated next to no revenue.
Kabbaj was one of the first to realize that to make big money in Africa, Goldman would have to tap Libya, telling a colleague in February 2007 that its wealth fund was "one of our key prospects." He cold-called the LIA and was told that Zarti was due in London soon and would listen to what Kabbaj and his colleagues had to say.
Zarti's background underscored the essential weirdness of doing business in Libya, where there were few private companies and credit cards didn't exist until 2005. Before coming to the LIA, he'd worked at a fund run by OPEC and led a modest tuna-fishing concern. He also happened to be a close friend of Saif Qaddafi, Moammar's son, which in Libya was the best possible qualification for a government job. Zarti favored Italian suits...
More