U.S. Steel X said that it has finalized an agreement for the sale and transition of ownership of its Canadian unit – U.S. Steel Canada ("USSC") – to Bedrock Industries Group LLC after receiving the requisite court and other approvals.

USSC, in Sep 2014, applied for relief from its creditors pursuant to Canada's Companies' Creditors Arrangement Act ("CCAA"). USSC recorded an aggregate operating loss of roughly $2.4 billion for five years at the time of the CCAA filling. As a result of the filing for bankruptcy protection, USSC and its units were deconsolidated from U.S. Steel's financial statements on a prospective basis.

The Ontario Superior Court of Justice, last month, approved a plan of compromise, arrangement and reorganization pursuant to the CCAA. U.S. Steel noted that it has received around $127 million in satisfaction of its secured claims including interest and unsecured claims. As part of the plan, U.S. Steel will be released from all claims with respect to environmental, pension and other liabilities.

U.S. Steel will provide certain services to USSC as part of the ownership transition. It has also agreed to supply USSC with all of its requirements for iron ore pellets through Jan 31, 2022.

U.S. Steel has underperformed the Zacks categorized Steel-Producers industry over the past six months. The company's shares have lost around 40.6% over this period, compared with roughly 5.1% decline recorded by the industry.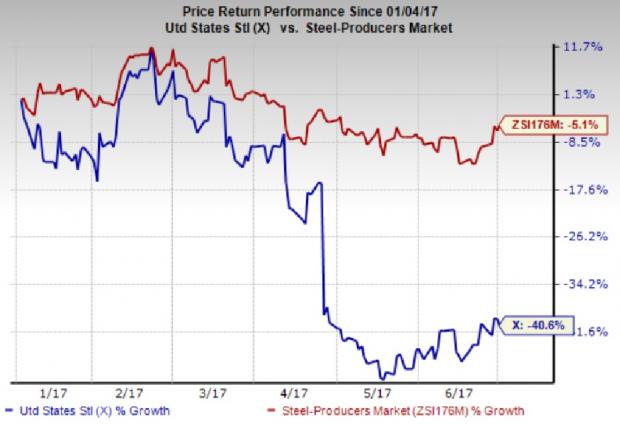 U.S. Steel came out with lackluster first-quarter 2017 results, missing analysts' estimates on both earnings and revenues. The company also cut its profit guidance for 2017. U.S. Steel now expects to post net earnings of around $260 million or $1.50 per share in 2017 compared with net earnings of $535 million or $3.08 per share it expected earlier. Moreover, the company cut its EBITDA guidance for the full year to roughly $1.1 billion from its earlier expectations of around $1.3 billion.

U.S. Steel is implementing an asset revitalization plan aimed at improving its profitability and competitiveness. The plan is expected to take 3-4 years for its full implementation. The company plans to invest around $300 million in asset revitalization in 2017, higher than 2016 level.

However, the company expects more downtime in its facilities this year due to this program that will limit its steel production volumes. Accelerated implementation of this plan is expected to affect flat-rolled shipments volumes in 2017.
U.S. Steel continues to face certain operational issues in its Flat-Rolled division, which is hurting the results of this unit. Increased outage costs, operating inefficiencies and higher plant maintenance costs affected this division in the first quarter. The company sees higher plant-related spending moving ahead as it accelerates asset revitalization investments and efforts.

U.S. Steel is a Zacks Rank #5 (Strong Sell) stock.
United States Steel Corporation Price and Consensus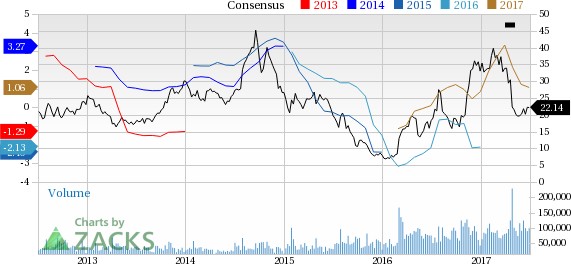 United States Steel Corporation Price and Consensus | United States Steel Corporation Quote
Stocks to Consider

Better-placed companies in the basic materials space include The Chemours Company CC, Kronos Worldwide, Inc. KRO and Koninklijke DSM NV RDSMY, all sporting a Zacks Rank #1 (Strong Buy). You can see the complete list of today's Zacks #1 Rank stocks here.

Chemours has an expected long-term earnings growth of 15.5%.

Kronos has an expected earnings growth of 354.8% for the current year.

Koninklijke has an expected long-term earnings growth of 7.7%.

5 Trades Could Profit "Big-League" from Trump Policies

If the stocks above spark your interest, wait until you look into companies primed to make substantial gains from Washington's changing course.

Today Zacks reveals 5 tickers that could benefit from new trends like streamlined drug approvals, tariffs, lower taxes, higher interest rates, and spending surges in defense and infrastructure. See these buy recommendations now >>

Want the latest recommendations from Zacks Investment Research? Today, you can download 7 Best Stocks for the Next 30 Days.
Click to get this free report
Kronos Worldwide Inc (KRO): Free Stock Analysis Report
Koninklijke DSM NV (RDSMY): Free Stock Analysis Report
Chemours Company (The) (CC): Free Stock Analysis Report
United States Steel Corporation (X): Free Stock Analysis Report
To read this article on Zacks.com click here.
Zacks Investment Research