Indian stock indices showed negative performance on Tuesday, October 25 on the back of retreating S&P BSE IT and S&P BSE Teck sectors, as well as declining FMCG names.
By the close, the Nifty 50 slipped 0.20% to 8,691.30, and the BSE Sensex 30 dropped 0.31% to 28,091.42.
The session's top advancers included Mundra Port Special Eco. Zone (+8.75%) and Dr Reddys Labs (+3.52%).
Today's worst performers were Tata Steel (-2.65%) and Mahindra (-2.63%).
ICICI Bank rose 1.6% to a 52-week high.
On the currency market, the USD/INR pair edged down 0.01% to 66.846, and EUR/INR eased 0.06% to 72.7110.
Meanwhile, the India VIX, a volatility index based on the Nifty 50 index options prices, increased 1.05% to 14.4825.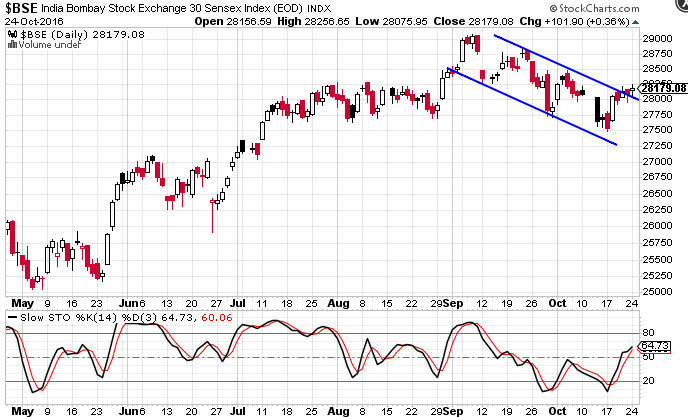 From a technical standpoint, the BSE Sensex 30 broke out of a falling band on the daily chart, still holding short-term upside potential.