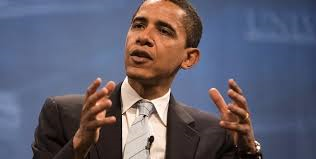 "Thanks a lot, Britain. I now feel about this big." (IMG: newslo.com)
For President Barack Obama to start stalking through the proverbial diplomatic weeds, and publicly spank solid allies like Britain (!) for following the demands of its own interests--and not those of the United States--and signing up for foundational membership in the Asian Infrastructure Investment Bank .  .  .  this is absolutely preposterous.
Inasmuch as it looks like Australia is going to join as well, notwithstanding the fact that France Italy and Germany have also publicly announced their signing, all of this in sum shows the futility of the President's stance. As impotent as he is in this situation, he, among other things, only manages to illustrate for the world his complete and utter isolation and ineffectual abilities in persuasion. Thus, not only does he not get what he wants--restraint of signatories to participation in the bank by his allies--but he creates a glaring example of failure, weakness, and eye-thumbing tossed in his direction.
Better he signed up and maintained a close watch on what he considers such a dark-star blood-enemy and competitor of Washington's World Bank via membership in it from jumpstreet. When something gains the momentum of the Asian bank, becomes as inevitable as it already is--and when despite the very real fact that you may wish the bank had not come into existence, you can nonetheless see that it has very real utility and serves a need in that part of the world--when you are in this spot, you smile and sign up. When something enters into your world that you wish more than anything you could change, or have control over, the last thing you do is distance yourself from it completely; you become a part of it to keep a close watch on it and--with your ally co-signatories--use your clout to influence its standards, its transparency, and its project selection for developments throughout the region.
"If you can't beat 'em, join 'em" are not the words of a foolish man. And they apply here.
This would seem to me  to be a no brainer. You don't put enormous work and sign up to global diplomatic  organizations that service those areas and processes that are running just hunky dory...you become a part of these global efforts because they need work, they have elements that need to be kept in check, there are powers that must be balanced by an American counterweight, etc. This is why the USA is a part of the UN, the security council, NATO, and any other of a number of global financial and banking regulatory bodies. 
That Mr. Obama cannot see this wisdom frankly surprises me--tremendously. By the foolish behavior he's just exhibited via publicly "scolding" a faithful ally like the Brits, groaning in the direction of other allies such as Australia whose minds are pretty much made up completely, Obama has accomplished something I have no doubt he had no intention of: stripping away some of the last veneers of political muscle he still has left as he rounds the corner into the final stretch of his Presidency. With Vladimir Putin engaging his entire country militarily from the Arctic down to the Black Sea port of Sevastapol, making himself look like a defiant, war-hungry dictator looking for a bump up with NATO forces on his borderlands or a scrap with the US advisors in the Ukraine, this attempt on Obama's part to flex his international muscles unintentionally revealed an eighty pound weakling instead, that nobody is interested in listening to.
In the end, the region is filled with such an astronomical scale of needs for infrastructure investment alone that if the bank hadn't been created, it would have been necessary to invent it sooner or later. Obama simply needs to recognize a fait accompli when he sees one. The AIIB is surely one.
Preston Clive
3/17/2015***