GlaxoSmithKline plc's GSK reported core earnings of 70 cents per American depositary share in the second quarter of 2017, which beat the Zacks Consensus Estimate of 68 cents by almost 3%.
Earnings were however down 2% year over year at constant exchange rates (CER), driven by a negative impact of settlement of intercompany transaction during the quarter.
So far this year, Glaxo's shares have gained 5.6%, comparing unfavorably with the industry's increase of 10.7%.

Quarterly revenues were up 3% at CER to $9.42 billion (£7.3 billion) on the back of strong performances by all the business segments. However, revenue marginally missed the Zacks Consensus Estimate of $9.52 billion.
All growth rates mentioned below are on a year-on-year basis and at CER.
Quarterly Highlights
Sales were up 5% in the U.S. and 1% in International markets. Also, sales in Europe registered a growth rate of 2%.
Sales of New Pharmaceutical and Vaccine products were up 47% driven by HIV drugs, Tivicay and Triumeq; respiratory drugs, the Ellipta products and Nucala; vaccines to prevent meningitis, and drugs like Bexsero and Menveo.
Glaxo reports results under three segments: Pharmaceuticals, Vaccines and Consumer Healthcare.

The Pharmaceuticals division registered revenue growth of 3% driven by HIV drugs, Tivicay and Triumeq, and respiratory disease drugs, Relvar/Breo and Nucala. This was partly offset by the impact of recent divestments on Established Pharmaceuticals.
HIV sales were up 17% on 24% growth in the U.S. and 27% in International sales. Europe sales were however flat year over year. The encouraging numbers came on the back of continued market share growth for both Triumeq (sales up 44%) and Tivicay (sales up 37%). However, sales of another HIV drug Epzicom/Kivexa tumbled 63% due to an increased generic competition, particularly affecting the European market.
Respiratory sales increased 4% on the back of 7% growth in both the U.S. and 5% in the international markets. In Europe, however, respiratory sales slid 2% as the portfolio continued to transition to newer products including Relvar/Breo Ellipta.
Sales of new respiratory products like Relvar/Breo Ellipta, Anoro Ellipta, Arnuity Ellipta and Nucala offset the decline in Seretide/Advair sales (down 14%). Flixotide/Flovent and Ventolin sales decreased 1% and 8% respectively.
The Ellipta products recorded a 73% surge in sales, driven by market share gains with the global roll-out continuing.
Immuno-inflammation drugs, which include Benlysta, rose 9% in the quarter.
The new grouping of Established Pharmaceuticals includes the previous Established Products, Cardiovascular, metabolic and urology (CVMU) and other Pharma products. Established Pharmaceuticals sales were down 7% in the quarter.
However, sales were flat in the Consumer Healthcare segment due to a slowdown in market conditions. Sales were hurt by the disposal of the Nigeria beverages business in 2016, challenging conditions in some emerging markets, particularly India, and a weaker allergy performance in the U.S. However, the power brands, particularly in Pain relief and Oral health categories saw a strong performance in the quarter.
Sales from the Vaccines segment were up 5%. Geographically, the U.S. was up 12%, Europe was up 10% whereas international markets were down 5%. Sales benefited from a continued uptake of meningitis vaccines, Bexsero globally and Menveo in the international markets. The segment also experienced a strong performance of the Established Vaccines, driven by higher demand for Boostrix and Hepatitis vaccines, particularly.
Outlook

The company expects to face a generic competition for Advair in the U.S. which will affect the top line. However, there is uncertainty regarding the timing of launch of a generic version of the drug. With no generic version of Advair expected to be launched in 2017, the company expects core 2017 earnings growth of 3-5% at CER, lower than 5-7%, projected previously.
Additionally, during the second quarter, the company decided to invest in a Priority Review Voucher to accelerate the FDA's review for its two drug regimen in HIV. This investment decision along with other accelerated launch cost, related with the HIV drugs, led to the lowered profit guidance.
We remind investors that Mylan's MYL efforts to bring a generic version for Advair in the market suffered a blow as the FDA issued a complete response letter to its abbreviated new drug application (ANDA) for Advair in April, thereby delaying the entry of the generic. Hikma Pharmaceuticals PLC's generic version of Advair was also denied an approval by the FDA in May 2017. A generic version of Advair is therefore not likely to be approved of this year.
Glaxo expects an approval for Shingrix in the U.S. and Europe, besides Closed Triple in the fourth quarter of 2017. Hence, these products should generate a significant sales figure only in 2018.
Long Term Outlook
Glaxo expects its adjusted EPS growth through 2020 to be in the range of mid-to-high single digits. During the period, the company plans to stop development of pre-clinical and clinical programmes and instead, shift the pipeline focus to Respiratory and HIV/infectious diseases' therapeutic areas, where the company already enjoys a strong presence. Also, the company will make R&D investments in two potentially fast-growing therapeutic areas - Oncology and Immuno-inflammation. Its cost-reduction initiatives would lead additional £1 billion annual cost savings by 2020.
GlaxoSmithKline PLC Price, Consensus and EPS Surprise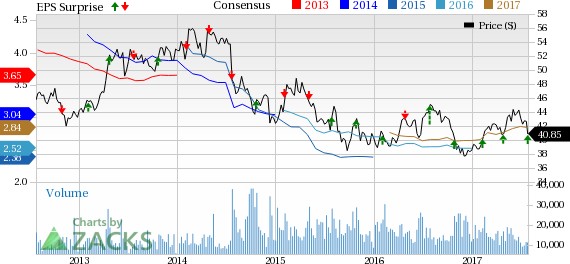 GlaxoSmithKline PLC Price, Consensus and EPS Surprise | GlaxoSmithKline PLC Quote
Zacks Rank & Key Picks
Glaxo currently carries a Zacks Rank #3 (Hold). Some better-ranked stock in the healthcare sector includes Enzo Biochem, Inc. ENZ and Exelixis, Inc. EXEL. Each of these stock sports a Zacks Rank #1 (Strong Buy). You can see the complete list of today's Zacks #1 Rank stocks here.
Exelixis's earnings per share estimates inched up from 53 cents to 55 cents for 2018, over the last 30 days. The company has delivered positive earnings surprises in all the trailing four quarters with an average beat of 512.11%. Exelixis's shares have soared 87.9% so far this year.
Enzo Biochem's loss per share estimates narrowed from 12 cents to 7 cents for 2017 and from 11 cents to 3 cents for 2018, over the last 60 days. The company delivered positive earnings surprises in all the trailing four quarters, with an average beat of 55.83%. The share price of the company has increased 62.7% year to date.
More Stock News: Tech Opportunity Worth $386 Billion in 2017
From driverless cars to artificial intelligence, we've seen an unsurpassed growth of high-tech products in recent months. Yesterday's science-fiction is becoming today's reality. Despite all the innovation, there is a single component no tech company can survive without. Demand for this critical device will reach $387 billion this year alone, and it's likely to grow even faster in the future.
Zacks has released a brand-new Special Report to help you take advantage of this exciting investment opportunity. Most importantly, it reveals 4 stocks with massive profit potential. See these stocks now>>
Want the latest recommendations from Zacks Investment Research? Today, you can download 7 Best Stocks for the Next 30 Days.
Click to get this free report
GlaxoSmithKline PLC (GSK): Free Stock Analysis Report
Enzo Biochem, Inc. (ENZ): Free Stock Analysis Report
Exelixis, Inc. (EXEL): Free Stock Analysis Report
Mylan N.V. (MYL): Free Stock Analysis Report
To read this article on Zacks.com click here.
Zacks Investment Research