At past market tops, certain sectors have tended to be strongest and some the weakest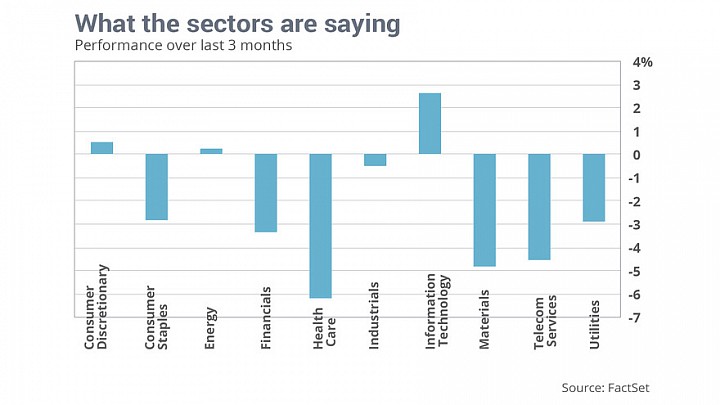 (MarketWatch) — The relative strength of stock market sectors says we are still in a bull market.
This below-the-surface strength is especially noteworthy because the broad market averages failed in their recent attempts to surpass their May all-time highs. To some technicians that failure raises the odds that the bull market ended at its May high.
But not so, according to the relative performance of various sectors. Some of the sectors that typically perform best at the end of bull markets haven't done well recently, while those that typically lag behind at market tops are doing quite well.
The accompanying table shows a performance ranking for the S&P 500 sectors over the past three months of all bull markets since the early 1970s. It was compiled by Ned Davis Research.
| | | | |
| --- | --- | --- | --- |
| S&P sector | Popularity rank based on returns prior to past bull market peaks (per Ned Davis Research) | Rank based on return over three months prior to May 21 high (per FactSet) | Rank based on return over past three months (per FactSet) |
| Consumer staples | 1 | 6 | 4 |
| Consumer discretionary | 2 | 2 | 2 |
| Health care | 3 | 1 | 10 |
| Information technology | 4 | 4 | 1 |
| Industrials | 5 | 8 | 3 |
| Materials | 6 | 9 | 7 |
| Telecommunications | 7 | 5 | 9 |
| Financials | 8 | 3 | 8 |
| Energy | 9 | 7 | 6 |
| Utilities | 10 | 10 | 5 |
The table also shows how those sectors have performed over the past three months, as well as over the three months prior to the stock market's May 21 all-time high. The overall message of the data is that there is no particular cause for alarm.
Notice, for example, that the financial and energy sectors — typically two of the weakest prior to markets tops — have three-month performance ranks in the middle of the pack. In fact, their ranks are essentially the same as the consumer-staples sector, which typically leads the market prior to tops.
To be sure, there are individual sectors that are a source of potential worry, such as the weak utilities sector and the above-average rank of the consumer-discretionary sector.
One reason not to be overly concerned, however, comes from a ranking of which sectors the best investment advisers currently like the most. Two of their favorites right now typically lag behind the market prior to tops: financials and utilities. (To construct my subset of top-performing advisers, I created a subset of all those monitored by the Hulbert Financial Digest who have beaten the stock market over the past 15 years — a long enough period to largely eliminate the role played by luck.)
There are, of course, no guarantees. But it should provide at least some solace to know that, if the bull market were topping out right now and the sectors were adhering to their historical pattern, a different group of sectors would be at the top and bottom of the performance rankings.