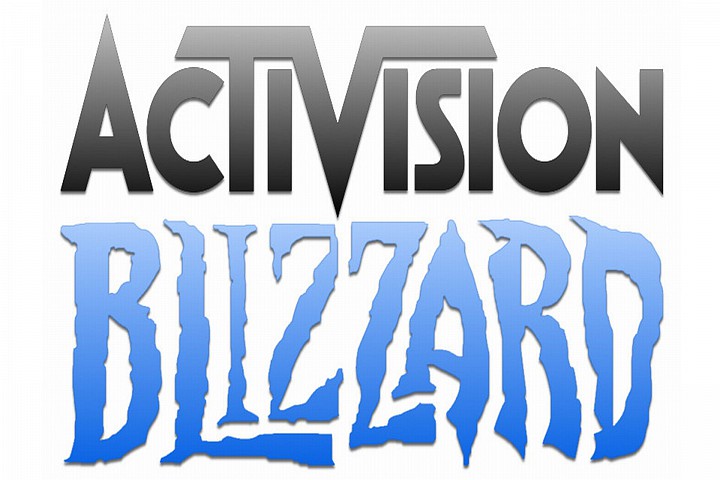 Activision Blizzard, Inc., incorporated on February 17, 2000, is a developer and publisher of online, personal computer (PC), video game console, handheld, mobile and tablet games. The Company's Blizzard Entertainment, Inc. segment is engaged in the subscription-based multi-player online role-playing game (MMORPG) category through its World of Warcraft franchise, which it develops, hosts and supports. It also develops, markets, and sells role-playing action and strategy games for the PC, console, mobile and tablet platforms, including games in the Diablo, StarCraft, and Hearthstone: Heroes of Warcraft franchises. In addition, it maintains an online game-related service, Battle.net.
1) Financial analysis
P/E Ratio (TTM) 25.14 (average in industry is 47.28). Total Debt to Equity (MRQ) is 51.05 (average in industry is 6.93) This is of concern, but the company is in a stage of transformation. The size of the debt is more than the industry average, but the size of the debt in general acceptable. Gross Margin (TTM) is 65.66. Its more than average in industry 40.71. Return on Assets (TTM) 7.77, average in industry 4.28. The company's performance is better than average for the industry.
2) Market conditions
Videogame maker Activision Blizzard Inc said "Call of Duty: Black Ops III" generated more than $550 million in global sales in the first three days after its Friday release, setting the tone for the crucial holiday quarter.
On Sony's PlayStation 4 console, "Black Ops III" set a record as the best-selling digital game by units sold on its first day, Activision said on Wednesday.
Activision Blizzard Inc has launched a film and TV studio to create original content based on its popular videogame franchises such as "Call of Duty" and "Hearthstone" in its latest push to expand beyond console-based games.
A "near-term" project for the videogame maker's film and TV studio will be to develop a movie franchise based on the hugely successful military first-person shooter "Call of Duty".
The company said it would also consider adapting the franchise for TV.
"Warcraft", Activision's other well-known game franchise, is already being made into a film through a partnership between its Blizzard Entertainment unit and Legendary Pictures, and is slated for a 2016 release. The Warcraft movie is an important milestone for the company and will give consumers' a first impression on what is to come from the new studio.
Activision Blizzard, which already owns many of the biggest franchises in PC and console gaming, wants to cement a leadership role in the mobile video game industry.
Activision agreed to buy "Candy Crush" creator King Digital Entertainment Plc for $5.9 billion to sharpen its focus on mobile games.
"The combined revenues and profits solidify our position as the largest, most profitable standalone company in interactive entertainment," said Activision Blizzard CEO Bobby Kotick in a statement. "With a combined global network of more than half a billion monthly active users, our potential to reach audiences around the world on the device of their choosing enables us to deliver great games to even bigger audiences than ever before."
With the buyout, Activision is able to address one of its chief areas of weakness: mobile.
Activision's franchises- which also includesDestiny, Guitar Hero, andSkylanders—are strong. But Activision has been late to the mobile revolution and slow to embrace mobile gaming as the category has grown in size. (Mobile games, in the 12 months ending Sept. 2015, accounted for19% of the total dollars spendon video game software, according to The NPD Group.) Rather than investing its own resources, the publisher has partnered with mobile-centric companies (including Tencent) to bring select franchises to mobile in emerging territories. In January, for instance, the two companies launchedCall of Duty Online in China.
Aside fromSkylanders, most of Activision's major franchises don't have a mobile presence in the U.S. One exception: Blizzard'sHearthstone, a PC and mobile game that has attracted more than 25 million players. Hearthstone's success may have been a key catalyst for Activision's pursuit of King.
The acquisition is expected to be completed next spring.
3) Technical analysis
<!== INSTRUMENT %% %1440% ==!>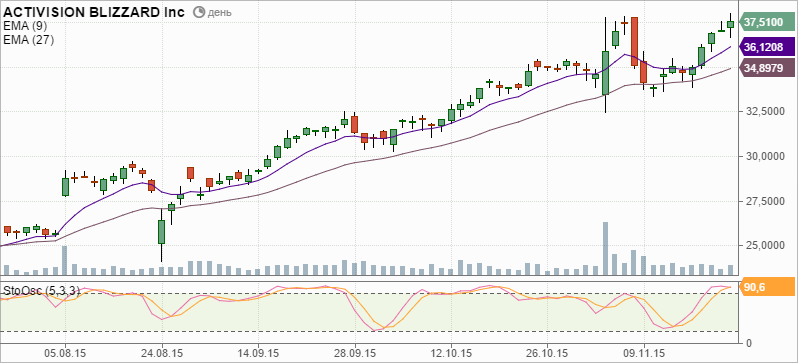 Activision Blizzard is technically overbought and it would be wiser to wait for correction before buying. 
4) Conclusion
We can see the transformation of the company into a full-fledged entertainment media holding company, which deals not only with the games. A lot will depend on the outcome of Warcraft movie.