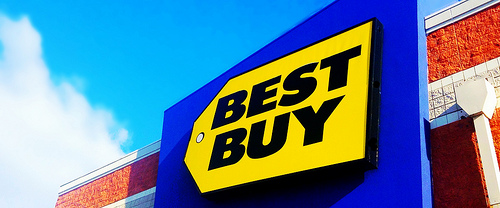 Best Buy (NYSE: BBY) beat analysts expectations this week, according to Bloomberg, posting revenue almost tripling what was expected. This is the fourth straight quarter the company posted gains, solidifying the potential success of its turn around plan headed by CEO Hubert Joly.
After the news, Best Buy stock shot up 18%, after previously being down 25% for the year, Bloomberg reported.
The company's comeback has been a few years in the making at this point; however, it seems to be working in the meantime. By clearing out shelf space for popular brands and cutting costs, Best Buy is showing some results, however, it still isn't enough to convince investors the numbers will remain high long term.
Recently, Best Buy expanded the section of the store housing Apple (NASDAQ: AAPL) products, in an attempt to lure customers and maintain a solid relationship with the tech giant.
"These better-than-expected second quarter results are affirmation that our strategy of offering advice, service and convenience at competitive prices is paying off," Joly said in a statement, according to Bloomberg.
Sales for the company were lifted this quarter, due to increased in phones, large appliances and big-screen TVs. About 10% of the Apple Watch total sale was from Best Buy, according to Bloomberg.
"It is difficult to know, though, if the recent volatility in the financial markets will affect overall consumer spending," Chief Financial Officer Sharon McCollam said in the statement, according to Bloomberg. "To date, however, we have not seen a measurable impact versus our original expectations."
Although Best Buy numbers are high now, I'm unsure if this trend will continue. The Apple Watch played a large role in this, and eventually, the appeal of the gadget will fade.
I think the more interesting question is, how long will it be until its effects dwindle?
For more business and financial news, click here.
*This is editorial content and expresses the opinion of the author.