Alexion Pharmaceuticals, Inc. ALXN is scheduled to report third-quarter 2017 results on Oct 26, before the opening bell.
In the last reported quarter, the company's earnings surpassed the Zacks Consensus Estimate. Also, Alexion's track record is excellent as it has consistently beaten expectations in the last four quarters, with an average positive earnings surprise of 11.12% over the trailing four quarters.
Moreover, a Alexion's shares have outperformed the industry year to date. The stock has been up 13.7% compared with the industry's gain of 9.1%.

What Does the Zacks Model Unveil?
Our proven model shows that Alexion is likely to beat earnings in the to-be-reported quarter because it has the right combination of two key ingredients – a positive Earnings ESP and a Zacks Rank #1 (Strong Buy), 2 (Buy) or 3 (Hold) – which have a significantly higher chance of beating earnings.
Zacks ESP: Alexion has an Earnings ESP of +0.44% as the Most Accurate estimate is $1.34 and the Zacks Consensus Estimate is pegged at $1.33. You can uncover the best stocks to buy or sell before they're reported with our Earnings ESP Filter.
Zacks Rank: Alexion's Zacks Rank #3, when combined with a positive ESP makes us reasonably confident of an earnings beat. You can see the complete list of today's Zacks #1 Rank stocks here.
Note that we caution against stocks with a Zacks Rank #4 or 5 (Sell rated) going into the earnings announcement, especially when the company is seeing negative estimate revisions.
Let's see how things are shaping up for this announcement.
Factors Likely to Impact Q3 Results
Alexion's blockbuster drug, Soliris, continues to perform well. Alexion continues to identify and treat a consistently high number of new patients with paroxysmal nocturnal hemoglobinuria (PNH) and atypical hemolytic uremic syndrome (aHUS) with Soliris, across its 50-country operating platform.
In order to further increase the commercial potential of the drug, Alexion is also working on expanding Soliris' label into additional indications. Label expansion into additional indications would give Soliris access to a higher patient population and increase the commercial potential of the drug significantly.
In August 2017, the European Commission expanded the indication for Soliris to include the treatment of refractory generalized myasthenia gravis (gMG) in adults who are anti-acetylcholine receptor (AChR) antibody-positive. In October, the FDA approved Soliris for the same. In fact, the Zacks Consensus Estimate for Soliris indicates the drug sales to increase 4.9% from the year-ago quarter to $765 million.
Meanwhile, Strensiq continues to perform well with revenues benefiting from a growing number of patients (both children as well as adults with pediatric onset disease) owing to hypophosphatasia (HPP) disease awareness and diagnostic initiatives. Going forward, the company expects Strensiq to be a strong additional growth driver. The Zacks Consensus Estimate for Strensiq indicates the drug sales to increase about 41% from the year-ago quarter to $86 million.
Furthermore, the company announced some restructuring initiatives. In this context, Alexion plans to focus on rare diseases businesses in core areas of hematology, nephrology, neurology and metabolic disorders to enhance productivity.
Notably, the company is expected to reduce spending and headcount associated with the previously announced de-prioritized pipeline programs as well as optimizing additional R&D expenses. Alexion also deprioritized ALXN1101 (cPMP replacement therapy) and ALXN6000 (samalizumab) as well as partnerships with Moderna Therapeutics, Blueprint Medicines and Arbutus Biopharma.
Consequently, the company will reduce its global workforce by approximately 20% and expects that the increased financial flexibility will allow it to reinvest approximately $100 million annually into R&D.
While, Alexion anticipates pre-tax savings of approximately $250 million by 2019, the total pre-tax restructuring and related expenses associated with the plan will be in the range of $340- $440 million. The company targets non-GAAP operating margin of 50% by the same year. Approximately 50% of the restructuring and related expenses will result in cash outlays while the same of approximately $240 million to $300 million are expected to be recorded in 2017.
In the meantime, the company's efforts to develop its pipeline are impressive, particularly in case of ALXN1210. Currently, it is evaluating ALXN1210 (a longer-acting anti-C5 antibody that inhibits terminal complement) in phase III studies for both PNH and aHUS.
In fact, the company initiated a phase III PNH switch study of ALXN1210 administered intravenously every eight weeks compared to patients currently treated with Soliris. Therefore, we expect investors to focus on updates from ALXN1210 as the successful development and commercialization of the drug will boost growth prospects.
However, Soliris' quarter-to-quarter revenue growth will be impacted by the enrollment ramp-up of trials on ALXN1210 (by $70 million–$110 million), particularly in the second half of 2017.
Alexion Pharmaceuticals, Inc. Price and EPS Surprise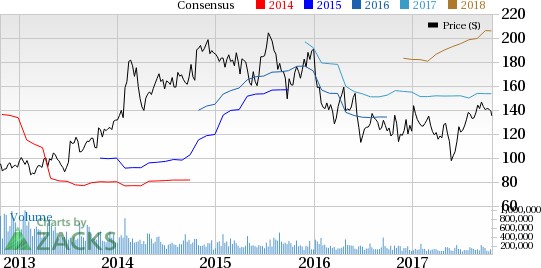 Alexion Pharmaceuticals, Inc. Price and EPS Surprise | Alexion Pharmaceuticals, Inc. Quote
Stocks That Warrant a Look
Here are some pharma stocks that you may want to consider, as our model shows that right combination of elements to post an earnings beat:
Seattle Genetics, Inc. SGEN has an Earnings ESP of +6.18% and a Zacks Rank #3. The company is scheduled to release results on Oct 26.
Gilead Sciences, Inc. GILD has an Earnings ESP of +0.23% and a Zacks Rank #3. The company is scheduled to release results on Oct 26.
Incyte Corporation INCY has an Earnings ESP of +22.89% and a Zacks Rank #3. The company is scheduled to release results on Oct 31.
Today's Stocks from Zacks' Hottest Strategies
It's hard to believe, even for us at Zacks. But while the market gained +18.8% from 2016 - Q1 2017, our top stock-picking screens have returned +157.0%, +128.0%, +97.8%, +94.7%, and +90.2% respectively.
And this outperformance has not just been a recent phenomenon. Over the years it has been remarkably consistent. From 2000 - Q1 2017, the composite yearly average gain for these strategies has beaten the market more than 11X over. Maybe even more remarkable is the fact that we're willing to share their latest stocks with you without cost or obligation.
Want the latest recommendations from Zacks Investment Research? Today, you can download 7 Best Stocks for the Next 30 Days.
Click to get this free report
Alexion Pharmaceuticals, Inc. (ALXN): Free Stock Analysis Report
Gilead Sciences, Inc. (GILD): Free Stock Analysis Report
Incyte Corporation (INCY): Free Stock Analysis Report
Seattle Genetics, Inc. (SGEN): Free Stock Analysis Report
To read this article on Zacks.com click here.
Zacks Investment Research