On Jul 7, major specialty packaging service provider to a diverse set of end markets, Sealed air Corporation SEE was upgraded by a notch to a Zacks Rank #3 (Hold).

We believe that the upgrade came on the back of recently-introduced innovations as well as enhanced demand for its core product portfolio, and accelerated growth in the global protein market along with the eCommerce sector. Sales for new products, including B+, FloWrap, StealthWrap, inflatable bubbles and automated mailers, are anticipated to increase in 2017 and contribute to both top-line and bottom-line growth. Additionally, the company believes that market differentiation of revolutionary innovation is gaining significant traction in each of its divisions.

In Food Care, customer interest continues to increase for the next generation target technology – Optidure. Sealed Air is winning new customers worldwide given its innovative platforms including the Internet of Things, Intellibot robotics, clean-in-place solutions, biodegradable chemistry, dry lube and others. Further, the company is exploring opportunities to expand existing relationships and grow its own brand into new channels.
The USDA projects 3.1% growth in red meat production in 2017 at record levels in the last decade. Sealed Air could witness a sizable pickup in North American Food Care operations. Sustained growth in red meat production is a result of successful rebuilding of the North American herd and increasing demand for protein from health conscious consumers. This demand factor combined with effective breeding management of the beef and pork herds within the U.S. has resulted in increased production and a greater growth opportunity for the Food Care packaging business.

Sealed Air Corporation Price and Consensus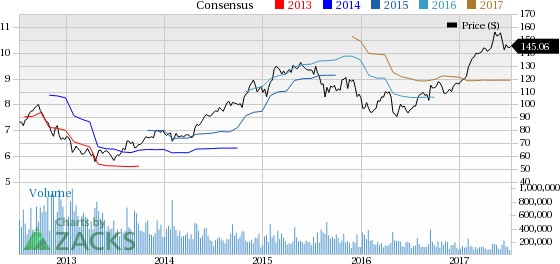 Sealed Air Corporation Price and Consensus | Sealed Air Corporation Quote

The company's pending divestment of its Diversey Care division would create two independent companies, New Sealed Air consisting of the remaining Sealed Air business and New Diversey. Each will have an enhanced strategic focus, simplified operating structure, distinct investment identity and strong financial profile. This is a step in the company's transformation and enables it to enhance strategic focus on the Food Care and Product Care divisions along with simplifying operating structure. The cash proceeds from this transaction will be utilized to repay debt and maintain credit profile, repurchase shares to minimize earnings dilution, and fund core growth initiatives, including potential complementary acquisitions to Food Care and Product Care divisions.

Meanwhile, the Diversey sale will be substantially dilutive to earnings in 2017. Further, costs associated with the Diversey Care operations and various restructuring actions underway will strain margins. Further, Volume growth in 2017 will be partially offset by higher raw material costs, higher mix of eCommerce and fulfilment sales.

Moreover, the selective ban on the Brazilian beef export will stall the recovery in this local market and negatively impact volumes in the second and third-quarters 2017. Sealed Air's results in APAC will be impacted as the Australia/New Zealand region rebuilds cattle herds, which is normally a two to four-year process and dairy markets remain muted.

The company generates around 33% of its total company sales from the European region. Further, it anticipates that the recent geopolitical events in Europe and the Middle East to have an effect on its business.





Year to date, Sealed Air's share price has gained 1.8% while the Zacks categorized Containers - Paper/Plastic subindustry witnessed an increase of 12.5%.

Stocks to Consider

Better-ranked stocks in the same industry include Apogee Enterprises, Inc. APOG, Deere & Company DE and Lakeland Industries, Inc. LAKE. All the three stocks flaunt a Zacks Rank #1 (Strong Buy). You can see the complete list of today's Zacks #1 Rank stocks here.

Apogee has an average positive earnings surprise of 3.41% in the trailing four quarters. Deere generated an average positive earnings surprise of 70.41% in the last four quarters. Lakeland has an average positive earnings surprise of 49.26%.

More Stock News: 8 Companies Verge on Apple-Like Run

Did you miss Apple's 9X stock explosion after they launched their iPhone in 2007? Now 2017 looks to be a pivotal year to get in on another emerging technology expected to rock the market. Demand could soar from almost nothing to $42 billion by 2025. Reports suggest it could save 10 million lives per decade which could in turn save $200 billion in U.S. healthcare costs.

A bonus Zacks Special Report names this breakthrough and the 8 best stocks to exploit it. Like Apple in 2007, these companies are already strong and coiling for potential mega-gains. Click to see them right now >>
Want the latest recommendations from Zacks Investment Research? Today, you can download 7 Best Stocks for the Next 30 Days.
Click to get this free report
Sealed Air Corporation (SEE): Free Stock Analysis Report
Apogee Enterprises, Inc. (APOG): Free Stock Analysis Report
Deere & Company (DE): Free Stock Analysis Report
Lakeland Industries, Inc. (LAKE): Free Stock Analysis Report
To read this article on Zacks.com click here.
Zacks Investment Research