Skepticism is one thing this rally hasn't lacked.
Amid its biggest about-face in nine decades, a funny thing has happened in the U.S. stock market, where rather than loosen their grip bears have grown ever-more impassioned. They've sent short interest to an eight-year high and above $1 trillion, by one analyst's math. Position reports from the Commodity Futures Trading Commission show mutual fund managers are more skeptical now than any time since at least 2010.
In short, disbelief is running rampant after $2 trillion was restored to share values in six months. A chorus of Wall Street prognosticators says that's a big reason the rally can keep going.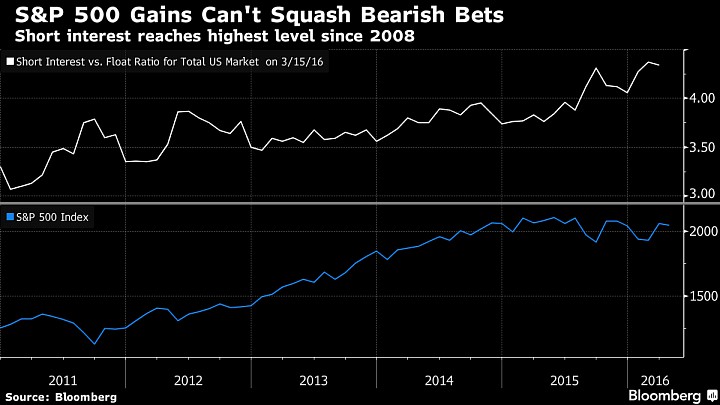 "There's an enormous demand coming," said Thomas J. Lee, managing partner at Fundstrat Global Advisors LLC., in an interview with Bloomberg TV . "Retail investors are about to put a lot of money into the equity markets because they're trend followers and the S&P has had two positive quarters in a row. Funds can't keep a trillion short position, larger than March '09."
It started in August, when bearish investors sent bets against U.S. stocks above 4 percent of available shares for the first time in six years. They haven't backed off since. By...
More