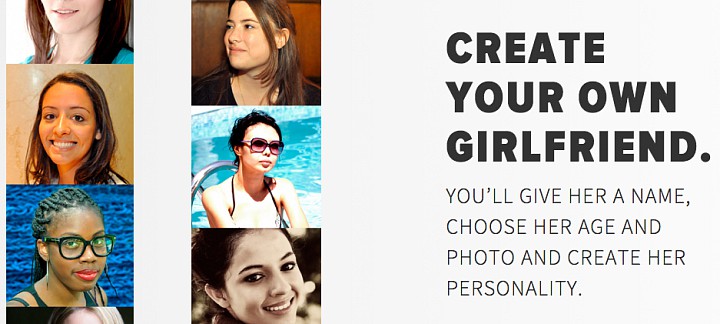 Image Credit: Invisible Girlfriend
Online dating companies like Match, OKCupid and Chemistry (NASDAQ: IACI) have become household names over the past ten years or so.
However, the dating game is about to change.
The Invisible Girlfriend app, also known as Invisible Boyfriend for those seeking men, is a St. Louis-based start up that allows customers to sign up and create a customizable partner, right down to the personality.
For $24.99 per month, Invisible Girlfriend will send you ten text messages, ten voicemails and one handwritten note. More than 300,000 users have signed up for the virtual service since its launch in February, according to Yahoo Finance.
Users browse through a library of selfies, hand-picking their e-partner's photo and name. If the user does not wish create a story about how they met, Invisible Girlfriend will prompt the user with an mad-lib type story, leaving the user to fill in the blanks.
According to its website, Invisible Girlfriend serves as a resource for those looking for a way to satisfy the societal pressure to be in a relationship. This service allows those who feel pestered from a nagging mom or an unrelenting coworker to have tangible, airtight proof of a significant other that answers in real time.
"Relationships, for the good they all do us, create pressure from friends and family," the website says. "We want to help those in want of a tailored, accessible girlfriend to avoid awkward social situations and questions."
This new app may seem like a quick fix, however, is, and should understandably so, not be categorized as a dating app or service.
In addition to these services, Invisible Girlfriend allows individuals to submit selfies for compensation that will then be submitted to their library users can choose from.
On the other side of these texts, voicemails and letters is a team of web developers, entrepreneurs and romance experts, according to Invisible Girlfriend's website.
"Our audience might come from a variety of situations: maybe they're in a same-sex relationship they're hiding from disapproving relatives, are trying to avoid the unwelcome advances from a coworker, or have chosen to focus on their work instead of their romance," Invisible Girlfriend creator Matt Homann told Buzzfeed.