After a crazy week the risk of a nuclear war has seemingly receded with the announcement by North Korea that its planned missile strike on the waters of Guam
would be delayed
.  But there's a couple of charts that have been troubling me and that make me think that it's not as simple as the markets apparently seem to think.  Since his inauguration President Trump has seen a
consistent downtrend in job approval
, with the events of the weekend likely galvanizing opinion further.  There's various
polls
and
betting markets
that show at least some speculate he will leave office early (voluntarily or otherwise).
That's where the issue lies. If there is one proven way to distract a populace or gain approval it's to go to war and unite the country behind a common cause and stir up nationalism.  So when I look at the
first chart below
it makes me think that Trump actually has a certain incentive to push toward a conflict.  Of course, my inner contrarian is also suggesting that this might actually be the low point.  That is, it could be the classic situation that's "so bad that it's good" ... i.e. things can only get better from here.  Maybe he will end up surprising and delivering on economic goals such as deregulation, infrastructure spending, tax cuts, and tax reform.  Maybe even a peaceful enduring solution to the North Korea crisis.  Either way, the situation looks dire, and when things get dire it can make people desperate...
The chart below shows a composite google search trends indicator based on key words associated with a Trump impeachment (designed to show interest in the subject). The black line is the
Philadelphia Fed Partisan Conflict Index
- which shows the degree of disagreement among US politicians.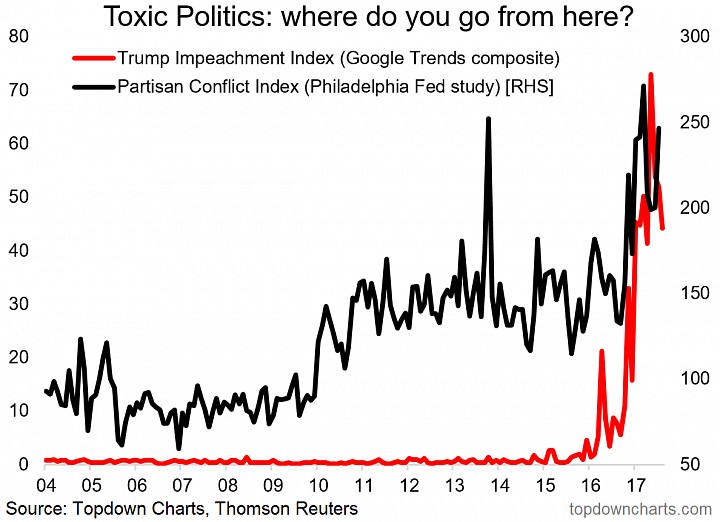 The S&P500 VIX vs the KOSPI VIX. While the risks have been downplayed, you'd expect the KOSPI VIX to remain somewhat elevated due to a higher risk premium, certainly if you see it fall back to pre-spike levels it might be a dip to buy!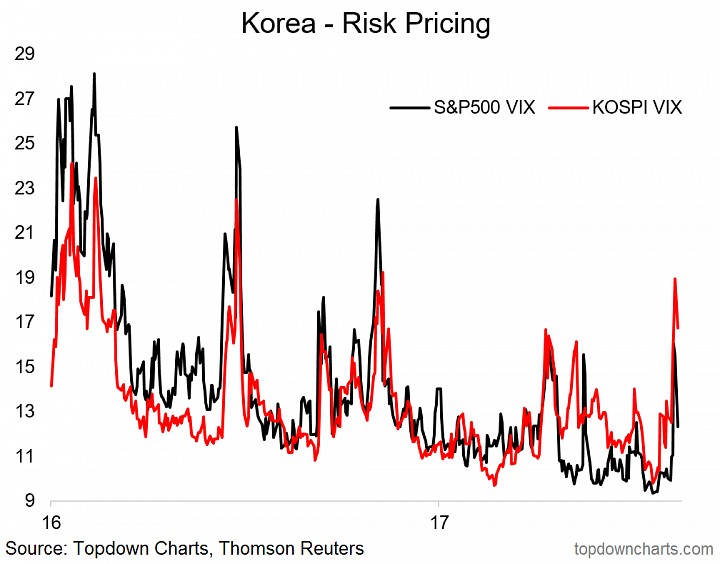 For institutional grade insights on the global economics and asset allocation, and some more good charts you may want to 
subscribe to the Weekly Macro Themes
.  Click through for a free trial.
Follow us on: