HCP Inc. HCP — a healthcare real estate investment trust (REIT) — reported third-quarter 2017 funds from operations (FFO) as adjusted of 48 cents per share, beating the Zacks Consensus Estimate of 46 cents. Comparable FFO as adjusted in the prior-year quarter was 50 cents per share.

Results were driven by growth in the three-month same property portfolio (SPP) cash net operating income (NOI). Also, the company raised its 2017 FFO as adjusted guidance range.

Moreover, HCP generated revenues of $454.0 million, which surpassed the Zacks Consensus Estimate of $450.4 million. However, it compared unfavorably with the year-ago tally of $530.6 million.

Notably, HCP announced that it has entered into transactions that offer a way to lower the company's Brookdale concentration to around 15.7%. The company would sell residual 40% investment in RIDEA II to Columbia Pacific Advisors. Further, HCP also announced coming back to the Boston life-science market with $228 million acquisition of the Hayden Research Campus.
HCP, Inc. Price, Consensus and EPS Surprise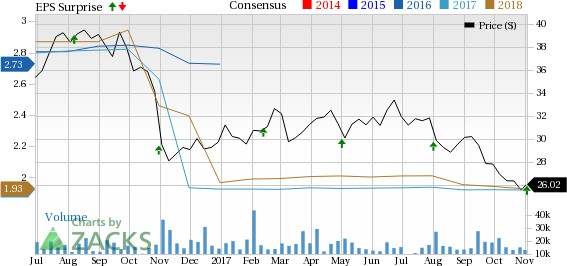 HCP, Inc. Price, Consensus and EPS Surprise | HCP, Inc. Quote
Note: The EPS numbers presented in the above chart represent funds from operations ("FFO") per share.

Behind the Headlines

HCP attained year-over-year three-month cash SPP NOI growth of 3.2%. Results were supported by 5.3% increase in Senior housing operating portfolio (SHOP) cash NOI, 4.0% growth in Life science, 2.7% uptick in Senior housing triple-net and 2.5% rise in Medical office portfolio.

During the third quarter, HCP announced $113 million of additional acquisitions. This brought its year-to-date announced acquisitions and developments to $447 million. Further, the company sold two triple-net senior housing assets leased to Brookdale for $15 million. At the quarter end, HCP's development pipeline aggregated $870 million. Also, the company added $63 million of new projects to its development and redevelopment pipelines.

HCP exited third-quarter 2017 with cash and cash equivalents of around $133.9 million, up from $94.7 million recorded at the end of 2016. It ended the quarter with $1.5 billion of liquidity from a combination of cash and availability under its $2.0-billion credit facility.

2017 Outlook

HCP raised its 2017 FFO as adjusted guidance range and expects it to be in the band of $1.92-$1.96 per share, denoting 2 cents per share increase at the mid-point. The Zacks Consensus Estimate for the same is pegged at $1.92.

In addition, the company reaffirmed aggregate 2017 SPP cash NOI growth guidance in the range of 2.5-3.5%.

Conclusion

We believe HCP is well poised to benefit from its diversified portfolio, rise in healthcare spending and an aging population over the long run. Strategic divestitures, efforts to lower the Brookdale portfolio concentration and focus on deleveraging augur well for long-term growth. However, rise in interest rates and cut-throat competition are major concerns. Also, dilutive impact on earnings in the near term from sale of assets is unavoidable.

HCP currently has a Zacks Rank #4 (Sell). You can see the complete list of today's Zacks #1 Rank (Strong Buy) stocks here.

We now look forward to the earnings releases of Welltower Inc. HCN, Mack-Cali Realty Corporation CLI and Lamar Advertising Company LAMR, all of which are expected to report in the next week.

Note: FFO, a widely used metric to gauge the performance of REITs, is obtained after adding depreciation and amortization and other non-cash expenses to net income.

Zacks' Best Private Investment Ideas

While we are happy to share many articles like this on the website, our best recommendations and most in-depth research are not available to the public.

Starting today, for the next month, you can follow all Zacks' private buys and sells in real time. Our experts cover all kinds of trades… from value to momentum . . . from stocks under $10 to ETF and option moves . . . from stocks that corporate insiders are buying up to companies that are about to report positive earnings surprises. You can even look inside exclusive portfolios that are normally closed to new investors.

Click here for Zacks' private trades >>
Want the latest recommendations from Zacks Investment Research? Today, you can download 7 Best Stocks for the Next 30 Days.
Click to get this free report
Lamar Advertising Company (LAMR): Free Stock Analysis Report
HCP, Inc. (HCP): Free Stock Analysis Report
Welltower Inc. (HCN): Free Stock Analysis Report
Mack-Cali Realty Corporation (CLI): Free Stock Analysis Report
To read this article on Zacks.com click here.