Gogo Inc. GOGO reported second-quarter 2017 loss of 56 cents per share, which was wider than the Zacks Consensus Estimate of a loss of 49 cents.
However, revenues increased 17.1% from prior-year quarter to $172.8 million, surpassing the Zacks Consensus Estimate of $168.2 million.
The in-flight internet provider posted net loss of $44.2 million in the quarter, representing a 10% year on year increase. Management attributes this to increased costs related to the launch of 2Ku service for new and existing airline partners, OEM 2Ku programs, and costs associated with the development of its futuristic ATG solution.
We note that shares of Gogo have massively outperformed the industry on a year-to-date basis. The stock gained 35.7% as against the industry's decline of 7.8%.

Quarterly Details
During the quarter, total Service revenue increased 20.8% from the year-ago quarter to $154.1 million. The year-over-year growth was driven by 9% increase in commercial aircraft online to 3,109, 17% increase in ATG business aircraft online to 4,453, and increased customer usage across all segments.
Segment-wise, Commercial Aviation - North America (CA-NA) connectivity take rate increased 20% in the quarter, increasing average revenue per aircraft (ARPA) to over $141,000 in the course of the year. Total revenue increased to $101.0 million, up 9% year on year, primarily on the back of higher aircraft online.
Commercial Aviation - Rest of World (CA-ROW) revenue more than doubled year over year to $14.1 million and ARPA grew 56% to over $226,000.
Business Aviation (BA) service revenue grew 30% year over year to $42.2 million.
Further, the company stated that it launched 2Ku service on five new airlines in the quarter, consequently expanding its 2Ku service on nearly 250 aircraft across nine airlines worldwide.
Adjusted EBITDA decreased 31% from the year-ago quarter to $9.9 million, due to costs associated with an accelerated Airbus line-fit program and 2Ku installations.
Gogo reported an operating loss of $17.34 million in second-quarter 2017, compared with an operating loss of $7.10 million in the second quarter of the previous year.
Capital expenditures increased 55.7% year on year to $74.1 million.
Gogo Inc. Price, Consensus and EPS Surprise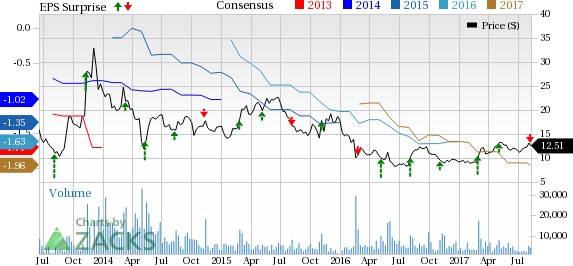 Gogo Inc. Price, Consensus and EPS Surprise | Gogo Inc. Quote
Balance Sheet & Cash Flow
Gogo exited the quarter with $96.4 million in cash and cash equivalents compared with $117.3 million as of Dec 31, 2016. As of Jun 30, 2017, the company's long-term debt was $880.4 million as compared with $800.7 million at the end of previous year.
Guidance
Gogo reaffirmed its outlook for 2017. Revenues are projected to be in the range of $670–$695 million. Further, the company anticipates 2Ku installations of 450–550 aircraft, including approximately 150 in CA-ROW.
Management forecasted adjusted EBITDA at the low-end of the previously given guidance range of $60–$75 million.
Adjusted EBITDA is expected to increase substantially in the second half of 2017 and in 2018.
Gogo projects gross capital expenditures to be in the range of $290 – $330 million. Capital expenditure is anticipated in the range of $230 –$260 million, of which approximately 70% is related to success-based airborne equipment purchases.
Zacks Rank & Stocks to Consider
Presently, Gogo carries a Zacks Rank #4 (Sell).
Better-ranked stocks in the broader tech space are Alibaba Group Holding Ltd. BABA, Microchip Technology Inc. MCHP and Lam Research Corp. LRCX. All the three stocks sport a Zacks Rank #1 (Strong Buy). You can see the complete list of today's Zacks #1 Rank Stocks here.
In the trailing four quarters, Alibaba, Microchip Technology and Lam Research have delivered average positive earnings surprises of 20.53%, 15.66% and 4.44%, respectively.
One Simple Trading Idea
Since 1988, the Zacks system has more than doubled the S&P 500 with an average gain of +25% per year. With compounding, rebalancing, and exclusive of fees, it can turn thousands into millions of dollars.
This proven stock-picking system is grounded on a single big idea that can be fortune shaping and life changing. You can apply it to your portfolio starting today.
Want the latest recommendations from Zacks Investment Research? Today, you can download 7 Best Stocks for the Next 30 Days.
Click to get this free report
Alibaba Group Holding Limited (BABA): Free Stock Analysis Report
Gogo Inc. (GOGO): Free Stock Analysis Report
Microchip Technology Incorporated (MCHP): Free Stock Analysis Report
Lam Research Corporation (LRCX): Free Stock Analysis Report
To read this article on Zacks.com click here.