Shares of SAM has fallen from a high of about 324 in early 2015 to a low near 145 as wrap up 2016. Now, it looks like price has anchored above 145 and is ready for a bullish reversal, which would be a bullish continuation relative to the long-term trend.
Before this long-term scenario however, we should anticipate some consolidation in the medium-term. This means looking for resistance as price approaches the key support/resistance area around 200. 

SAM Weekly Chart 11/28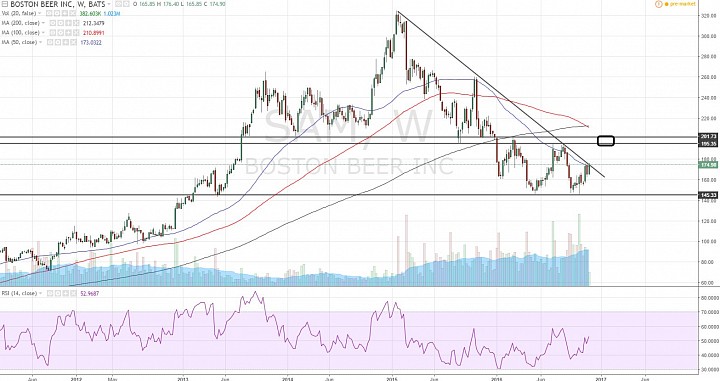 \
(click to enlarge)
Respecting Resistance:
- First of all, price has to push through 175 to clear a falling resistance seen in the weekly chart. 
- Even after a break above 175, we need to respect the prevailing bearish trend since early 2015. 
- This means respecting the support/resistance pivot area around 200. 
- We should allow some elbow space, perhaps to 210, where the 200- and 100-week simple moving averages (SMAs) reside at the moment. 
Bullish Continuation Scenario:
- A break above 210 would be needed to introduce the bullish continuation scenario, which would first open up the 260 handle. 
- Furthermore, if the market starts showing support around the 175-180 area, we would have more evidence of the bullish continuation scenario.