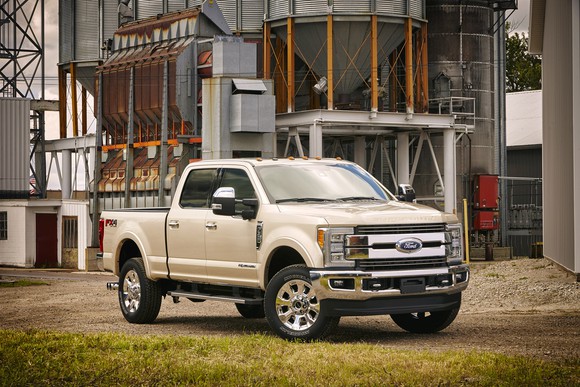 Ford owns the F-Series, America's best-selling vehicle line for decades and a huge profit center for the Blue Oval. It also owns a ton of advanced technology that will keep it in a leading position for decades to come. Shares dropped sharply this week on short-term concerns. Value investors should take note. Image source: Ford Motor Company.
Shares of Ford Motor Company (NYSE:F) dropped 8.2% on Thursday after the company's second-quarter profit missed expectations and executives warned that their full-year guidance was at risk.
That seems like bad news. Is it finally time to sell your Ford stock?
I think it might be an opportunity to buy more. Here's why.
The bad news might be overblown
Ford CFO Bob Shanks emphasized on Thursday that despite a 9% year-over-year drop in net profit, the second quarter was still a very good one for the Blue Oval.
All things considered, he's right. The U.S. new-car market may be at a plateau after years of growth, but it's a high plateau that might be sustainable for several more quarters, with strong sales in the most profitable market segments.
The bad news, one of the factors that worried investors on Thursday, is that Ford's incentives were up year over year. But Shanks noted that Ford's incentives were unusually low in the second quarter of last year. That's because Ford was still ramping up production of its best-selling model, the then-new F-150. Its truck incentives were low a year ago because supplies were very tight. That led to an exceptional profit margin in the second quarter of last year, but it wasn't sustainable.
Now, things have returned to "normal" -- except that incentives have been slowly rising across the industry because sales growth has stalled, and Ford's have been keeping pace. Those incentives probably dented the profit margin in its North America unit: It was down from a year ago, but still extremely strong at 11.3%.
Abroad, Ford's road in China has hit some bumps as of late, as domestic Chinese automakers have upped their game at the lower ends of the market. That has put some pressure on Ford's pricing, and cost it some market share. But Ford's market share is already trending back up (from 4.1% in April to 4.7% in June), and it's moving to reduce the costs of its most affordable Chinese products, the Escort sedan and EcoSport SUV.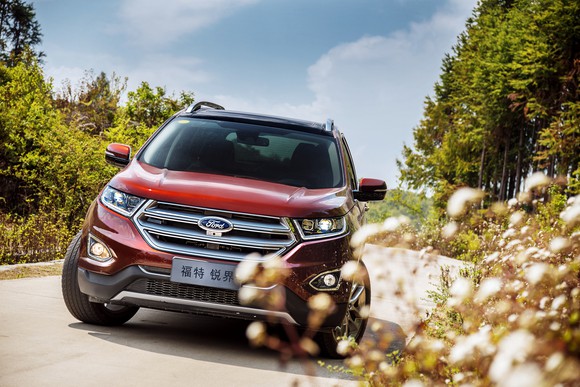 The new Ford Edge is a huge hit in China. Ford will increase local production of the popular crossover by the fourth quarter, one of several steps that...
More