Amphenol Corporation APH designs and manufactures connectors and interconnecting systems that are used to transmit electrical and optical signals for a wide range of sophisticated electronic applications.

In the last four quarters, APH has reported a positive average earnings surprise of 7.90%, beating estimates on all occasions.

Currently, APH has a Zacks Rank #2 (Buy), but that could definitely change following the third-quarter 2017 earnings report which was just released. You can see the complete list of today's Zacks #1 Rank (Strong Buy) stocks here.

We have highlighted some of the key stats from this just-revealed announcement below:

Earnings: APH beats on earnings. Adjusted earnings came in at 88 cents per share, higher than the Zacks Consensus Estimate of 79 cents.

Revenue: Quarterly revenues beat estimates. APH recorded revenues of $1,840.8 million, higher than the Zacks Consensus Estimate of $1,725 million.

Key Stats to Note: APH is poised to grow on the back of new acquisitions, business diversification and greater innovation. However, the company perceives that negative foreign currency impact or unfavourable government policies might limit near term growth. The company anticipates to generate fourth-quarter 2017 revenues within the range of $1,760-$1,800 billion. While adjusted earnings for fourth-quarter 2017 is predicted to lie within 79-81 cents per share.

Notably, APH has raised its top- and bottom-line view for 2017. Full-year 2017 are currently expected to lie within $6,828-$6,868 billion, higher than the prior projection of $6,620-$6,700 billion. While, adjusted earnings for 2017 is predicted to lie within $3.19-$3.21 per share, higher than $3.06-$3.10 per share range previously estimated.

Stock Price: At the time of writing, the stock price of APH was up nearly 3% ($2.60) in the pre-market trade on Nasdaq. Clearly the initial reaction to the release is optimistic. We view the company's better-than-expected third-quarter 2017 result as the primary reason behind the positive sentiment.

As of Oct 24, 2017, APH's closed the trading session at $86.65 per share.
Amphenol Corporation Price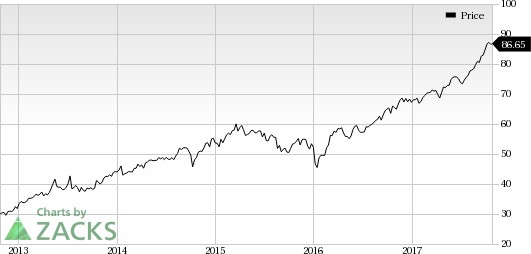 Check back our full write up on this APH earnings report later!

Zacks' Hidden Trades

While we share many recommendations and ideas with the public, certain moves are hidden from everyone but selected members of our portfolio services. Would you like to peek behind the curtain today and view them?
Starting now, for the next month, I invite you to follow all Zacks' private buys and sells in real time from value to momentum...from stocks under $10 to ETF to option movers...from insider trades to companies that are about to report positive earnings surprises (we've called them with 80%+ accuracy).

You can even look inside portfolios so exclusive that they are normally closed to new investors.

Click here for Zacks' secret trade>>

Want the latest recommendations from Zacks Investment Research? Today, you can download 7 Best Stocks for the Next 30 Days.
Click to get this free report
Amphenol Corporation (APH): Free Stock Analysis Report
To read this article on Zacks.com click here.