SHARE ON:
From 2012 to 2014, Caterpillar Inc. (NYSE:CAT)'s stock generated an annualized return of 2.8%, significantly trailing the market's annualized return of 20%. Year-to-date, CAT is down 22% and lags the market by more than 20%. As the commodity super cycle fueled by China's unsustainable infrastructure growth continues unwinding, it comes as no surprise to see CAT struggle over the last few years.
The company expects revenue to be down another 5% in 2016, marking the first stretch of four consecutive years of revenue declines in the company's 90+ year history.
CAT has experienced cyclical downturns before, but the current depressed environment seems different, more prolonged. Unlike the typical V-shaped cycle, this one is coming off of 10+ years of what looks to have been excessive commodity demand, driven by China's debt-fueled infrastructure binge.
As seen below, the price of copper (a proxy for China's demand growth) skyrocketed from 2003 through 2008, rising from less than $1 per pound to nearly $4 at the peak. Since 2012, when CAT's current bout of weakness started, copper has painfully slid from about $4 per pound to $2.40 per pound today. Not a complete retracement to pre-boom levels, but a substantial amount of pain has already been incurred. Still, we could reasonably see another few years of declining prices as global growth remains anemic, China's economy continues transitioning, and commodity producers slowly rebalance supply with demand after years of overbuilding mines and infrastructure.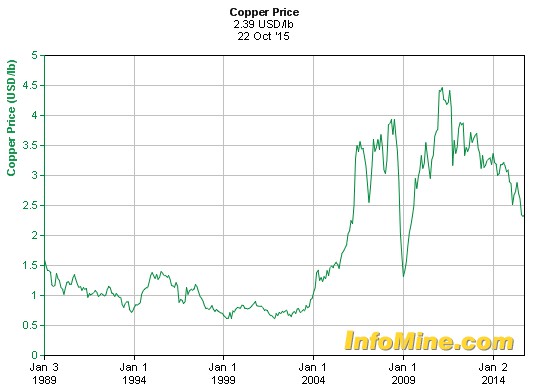 When you combine this fact with the long-lived nature of CAT's large machinery (most equipment is expected to last 10-20 years), the fragile financial state of many commodity producers (i.e. CAT's customers), and the significant amount of uncertainty surrounding global growth, it is no surprise to hear that many customers are not even replacing their current equipment fleets, much less ordering new machinery.
Just how bad are things today? Within CAT's dwindling mining business, sales are below the levels it experienced during the financial crisis and, according to management, are "far below replacement levels." Within China's construction markets, CAT noted that the industry there is near 10-year lows and also operating below replacement level.
The collapse in oil price, strong US dollar, recessionary conditions in emerging markets like Brazil, and sluggish demand trends in developed countries have further exacerbated CAT's weakness. Altogether, revenue has declined by more than 30% since 2012, with weakness in CAT's most profitable Resource Industries segment (mining business) driving 2/3 of the losses. Sales fell 19% in Q3 and are expected to retrace another 5% next year.
We are most concerned about the mining industry going forward. Oil headwinds seem likely to continue hurting the business over the next year and potentially even worsen (e.g. smaller US operators declare bankruptcy), but the price of oil seems to have less secular headwinds than metals overall (your macro forecast on this one is as good as ours). Within construction, outside of China, we don't see secular pressure either – economies will continue to (slowly) grow.
To be clear, we wouldn't be interested in the stock if mining end markets still accounted for a substantial amount of CAT's earnings (we estimate mining sales are less than 15% of the business, with a large amount of that related to aftermarket business). We only buy dividend-paying companies that we think will generate substantially more earnings in five years than they do today, and we can't say that...
More