Oakmark Funds: A Patient And Active Approach
Recent data reveals that the majority of active funds do not outperform their respective indexes, which has spurred large inflows into passive investments. But a look beneath the data's surface reveals a more complex landscape. Research conducted by Russ Wermers and Tong Yao concludes that stocks owned heavily by index funds exhibit more long-term pricing anomalies: active funds enhance, while index funds reduce, the informational efficiency of stock prices1. As active investors, we think this shift to passive investments creates excellent buying opportunities.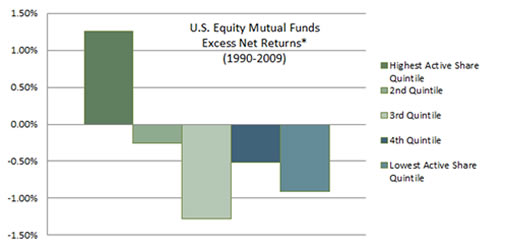 *Antti Petajisto, "Active Share and Mutual Fund Performance," Published by CFA Institute, Financial Analysts Journal. Volume 69, Number 4. 2013. http://www.petajisto.net/research.html
We do not think all active funds are created equally. Analyzing active funds as a whole fails to recognize the huge variety of processes and skill levels in the space. Michael Mauboussin proposes the concept of untangling skill versus luck to identify the most successful long-term investors. Mauboussin believes that active share, tracking error, and an investors' process—broken down into analytical, behavioral and organizational segments—are better indicators of future successes than past performance2.
We believe that the analytical, behavioral and organizational portions of our process at Harris Associates are the keys to our success. Analytically, our generalist research analysts take a private equity approach to valuing businesses. We seek to buy businesses with a high margin of safety and build focused portfolios from our highest-conviction ideas. Behaviorally, we aim to capitalize on the mistakes many investors make based on human nature. Where impatience and emotions lead many to make rash decisions, we believe that our patient, disciplined approach allows us to remain rational throughout our process. Organizationally, our interests are aligned with those of our clients; we manage the capacity of our funds to help ensure that our nimble investment...
More