Key measures of equality between men and women in the U.S. are improving, and a broad gauge shows the gender gap is narrowing, according to a new report.
Among 142 tracked countries, the U.S. placed No. 20 in a 2014 ranking of gender gaps around the world, moving up three slots from last year, according to theWorld Economic Forum, the Swiss nonprofit that hosts an annual meeting in Davos. That 2014 rank places the U.S. one notch below Canada and one above Ecuador.
Iceland is No. 1 this year in the Forum's overall gauge of gender equality, followed by Finland and Norway. Coming in dead last at No. 142 was Yemen, which was only slightly bested by Pakistan and Chad.
In recent years the U.S. has ranked as high as No. 17 — that was in the 2011 report — and as low as No. 31, in both 2007 and 2009. The Forum's gender-gap index includes four major components: economic participation and opportunity, educational attainment, health and survival, and political empowerment. Among those, the U.S. did best in economic participation and opportunity, ranking fourth among all countries, and worst for health and survival, ranking 62nd.
A stubborn challenge in achieving equal pay for men and women in the U.S. is occupational segregation. For a variety of reasons, men and women tend to go into different types of work, and women make up a majority of the most common low-wage jobs.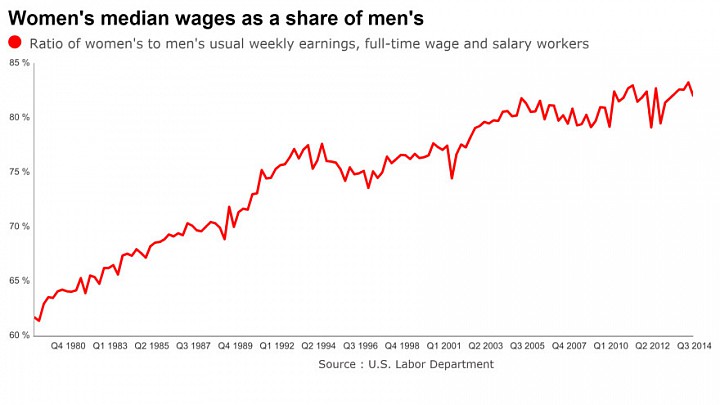 The U.S. Labor Department's most recent data on median weekly earnings for full-time workers show women made about 82 cents for each dollar made by men. That ratio has improved over the years — three decades ago women made just 68 cents for each dollar earned by men — but experts are concerned that ongoing occupational segregation means that the gap will only slowly narrow going forward.
Looking at the Forum's gauge of economic participation and opportunity, a category that includes factors such as labor-force participation and income, the U.S. scored 0.828 out of a possible score of one. A score of one would show perfect equality, while a score of zero would show perfect inequality.
In two other major components, the U.S. scored a 0.998 for educational attainment and a 0.975 for health and survival. Small marginal differences can have a major impact on rankings.
Dragging down the country's overall score, the U.S. scored a 0.185 for political empowerment, hit by a goose egg for female heads of state.
Ruth Mantell