There is a slight deescalation of tension regarding the Ukraine crisis. Russian troops did not advance and retreated to their bases, following Putin's orders.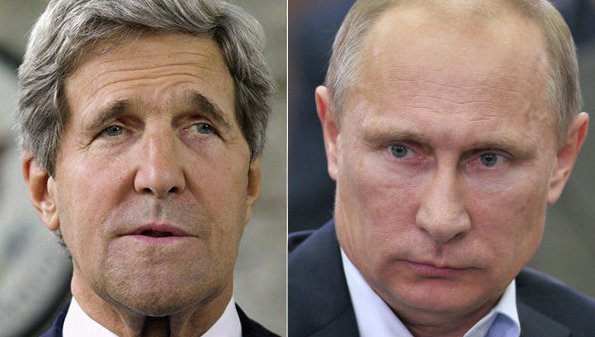 US secretary of state John Kerry arrived in Kiev today and offered advice regarding Ukraine's WTO rights, and extended a $1bln aid package. 
Gold, facing both a rising channel resistance and a falling trendline (seen more clearly on the daily chart), retreated from yesterday's risk-off rally.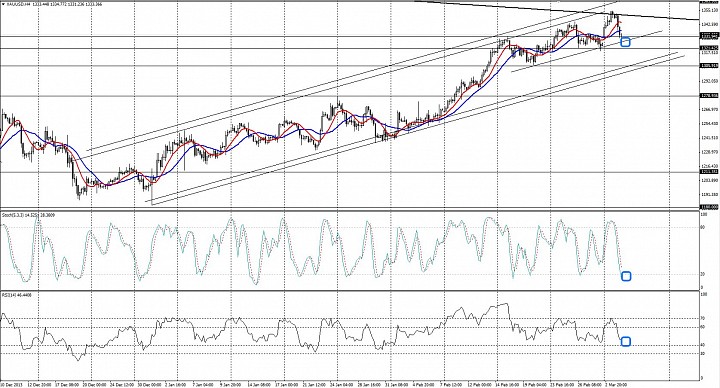 (Gold 4H chart)
Buy Idea:
In the intra-day perspective, we might get some support as the market closes in on the 1325-1330 area, corresponding to a projected rising support that is parallel to the channel support/resistance, and is placed in the middle of the channel. Also, with the 4H stochastic at 20, and the RSI near 40, I am considering this as a very short-term buy signal, for a retest of the 1350-1355 area.
Sell Idea:
On the other hand the daily chart shows a triple bearish divergence with the RSI and stochastic. Sure this is a sign the market is overbought, but the signals are now resolved, and no longer reflect overbought conditions.
You might get lucky and pick the top, but I would prefer to at least see the 4H RSI dip below 40 to convince me that the bullish momentum might be over. A break below 1320, as well as a failure to make a new high on the next upswing, will persuade me further that the current rally is having trouble. 
Ukraine:
Back on the risk factor - Ukraine, I can see further oscillation between tension and deescalation. I would not want to jump on the sell idea until the situation simmers down significantly and militarism can be shelved. 
The 2 1/2 month rally has left a lot of room to fall, so you don't have to predict the top to rip off a nice chunk of any bearish run in the medium term.