The Governor of the Reserve Bank of Australia (RBA) shived the Aussie in the back overnight.
From Bloomberg: "Reserve Bank of Australia Governor Glenn Stevens signaled a weaker local currency is preferable to lower interest rates to help spur the nation's economy, saying the so-called Aussie's natural level is probably below its current value. "I thought 85 U.S. cents would be closer to the mark than 95 cents," he said in an interview published today in the Australian Financial Review. "But really, I don't think we can be that precise." 
I can't be that precise but let me put a number to it. Alrighty then. The market took those comments and ran with them - a nice bit of verbal intervention by the RBA Governor.
I got a little bit fooled by the Aussie as it seemed to be wanting to put in a bottom over the last two weeks, but should've trusted the medium term outlook that I laid out before asking "how low can the Aussie go?".
<!== INSTRUMENT %% %20000% ==!>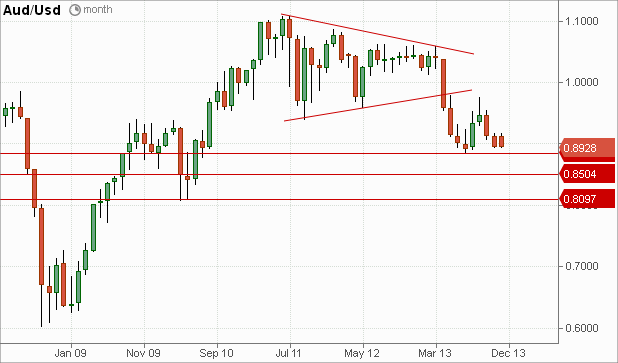 Before, I had looked at the 0.89 pivot - the lows from the summer - as the logical support level, but let's zoom out using the monthly(!) charts to have a look at where 0.85 is in relation to the last few years of price action.

Well, the pair was there back in 2010, and 0.85 actually lies above a key pivot  near 0.81, so its possible that we have a continuation towards those lows, and with the RBA verbally intervening here, they are likely to tilt policy as much as they can towards a weaker Aussie.

We need to clear that initial 0.89 supports before we head towards Stevens' 0.85 level, but with such a clear statement from the RBA, let's look at the downside as the likelier scenario.