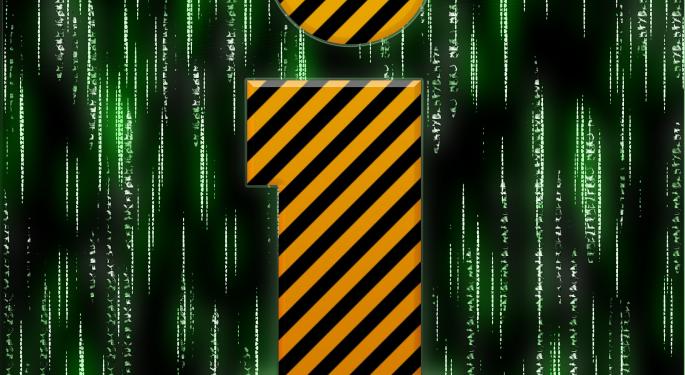 There's a whole class of traders out there that trade merger & acquisition (M&A) rumors and news. When one company makes a buyout bid for another company, the bid is typically priced at a premium to the target company's market value at the time of the bid. As a result, buyout offers typically result in a major jump in share price for the target company.
However, even after a buyout offer is announced, there are other M&A trading opportunities. PreMarket Prep's Joel Elconin and Dennis Dick recently discussed how a typical risk arbitrage trading strategy works.
Using Pfizer Inc. PFE 0.4%'s all-cash offer for Medivation Inc MDVN 0.06% as an example, Dick explained how risk arbitrage traders capitalize on market uncertainty about a deal's completion.
Pfizer offered to buy Medivation for $81.50/share in cash, yet the stock is trading at around $80.32 on Tuesday morning. Why not $81.50? The market is pricing in $0.18 of risk that the deal won't go through. Risk arbitrage traders scoop up shares of the target company and hold until they receive the full cash value of the buyout offer.
For Medivation, the risk a deal won't go through amounts to only about 0.2 percent upside, but other potential deals are much less certain.
Walgreens Boots Alliance Inc WBA 1.06% has an all-cash deal on the table to buy Rite Aid Corporation RAD 1.31% for $9/share, yet Rite Aid currently only trades at around $7.70 on fears that antitrust regulators will block the deal.
Things can get even more complicated when the proposed deals involve shares of stock, such as the proposed Tesla Motors Inc TSLA 0.38% buyout of SolarCity Corp SCTY 0.13%.
"Risk/return a little bit scary here for me, but the risk-arbs are pricing in about a 5 percent discount here," Dick said of SolarCity.
In addition to the typical risk arbitrage strategy, Elconin added that many recent M&A deal announcements have been selling opportunities.
"The most action you do get is usually when the official deals are announced… a lot of times when you get that pop, it's a pop to sell," he concluded.
For example, Rite Aid shares spiked to nearly $8.75 immediately after the Walgreens deal was announced last year. Within two weeks, they were back down below $7.50.
Listen to the full discussion at 44:47 in the clip below.
PreMarket Prep is a daily trading ideas show that airs live from 8–9 a.m. ET every morning here. You can also listen to the podcast here.
Do you have ideas for articles/interviews you'd like to see more of on Benzinga? Please email feedback@benzinga.com with your best article ideas. One person will be randomly selected to win a $20 Amazon gift card!
© 2016 Benzinga.com. Benzinga does not provide investment advice. All rights reserved.