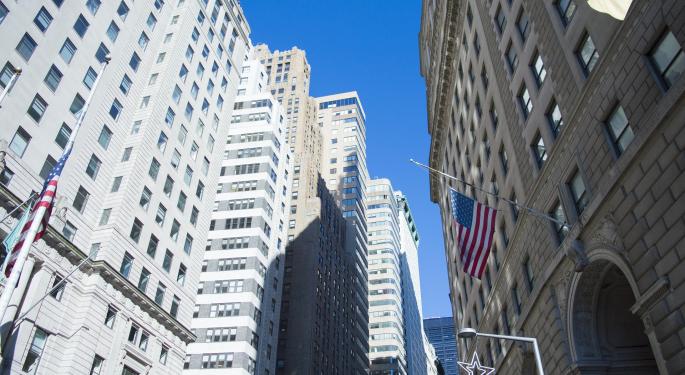 Below is a tool used by the Benzinga News Desk each trading day -- it's a look at everything happening in the market, in five minutes. Apply for daily AM access by clicking here or email minutes@benzinga.com.
Macro Focus
Chinese stocks were hit hard on Monday after the government's mouthpiece People's Daily published an article titled "Authoritative Person Talking About China's Economy." According to Barrons, the article said a person of high authority in China is expecting the country's economic growth to look like an "L-shape" for "more than one or two years."
Meanwhile, China's government said the country's total exports fell by 1.8 percent in April while imports also fell 10.9 percent. China's Shanghai index lost 2.79 percent.
Oil prices were higher as well Monday morning as an ongoing wildfire in Canada temporarily knocked out over 1 million barrels in daily production capacity. Meanwhile, Saudi Arabia appointed Khalid al-Falih as head of the government's newly created Ministry of Energy, Industry and Mineral Resources.
Crude futures rose nearly $1 per barrel to $45.57, while Brent crude futures rose $0.72 per barrel to trade at $46.02.
BZ News Desk
Sell-Side Themes
Goldman Sachs analysts took a look into two very different areas: Oil, with the Baker Hughes BHI 0.98%-Halliburton HAL 0.79% deal now called off; Casinos, specifically to names with high exposure in Macau like Wynn Resorts WYNN 0.6%.
Sell-Side's Most Noteworthy Calls
Deal Talk
Krispy Kreme Doughnuts KKD 23.78% agreed to be acquired by a JAB Holding Co. subsidiary in a $1.35 billion deal. The deal will take Krispy Kreme private.
Colony Capital CLNY 2.25%, Northstar Asset Management NSAM 4.83%, NorthStar Realty Finance NRF 5.08% are in talks to form a "tri-party all stock at the market business combination."
Buy Side
Money managers boosted their net long positions to the highest since 2011, when gold prices surged to a record. Wagers on price gains climbed 27 percent in the week ended May 3.
With their "Midas touch gone," Reuters looks into how the hedge fund industry's influence may be waning.
In The News
UPS UPS 0.11% is backing a startup using drones in Rwanda to transport life-saving blood supplies and vaccines, underlining the wide potential for the unmanned aircraft and helping bring package delivery by drone to U.S. consumers a step closer.
Twitter TWTR 0.28% cut off U.S. intelligence agencies from access to Dataminr, a service that sifts through the entire output of its social-media postings, the latest example of tension between Silicon Valley and the federal government over terrorism and privacy.
Robert Davis admits he was wrong to embezzle thousands of dollars from the Highland Park School District. But the former school board president and union activist, recently released from federal prison in Alabama, told The Detroit News that a lack of oversight by school districts makes it far too easy to siphon money from public coffers. "It's easy access," said Davis, 36, who served 10 months for stealing $200,000 from the financially beleaguered district.
Blogosphere
Buffett took holding company Berkshire Hathaway from less than $8 a share in the 1960s to about $215,000 a share today. What, you ask, is his secret? The Detroit News looks at those who want to "fund it like Buffett."
Trending
LC HZNP TSN OPK TEVA INO W KKD CHK WATT CLLS SCTY CMRX NVDA LABU ARIA JD
Marvel-Disney's DIS 0.66% "Captain America: Civil War" opened the summer spectacularly with a dominant $181.8 million weekend. The third "Captain America" movie met lofty expectations with the fifth-best domestic opening weekend of all time.
© 2016 Benzinga.com. Benzinga does not provide investment advice. All rights reserved.