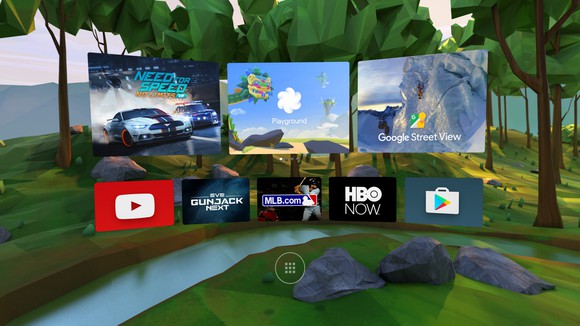 Virtual reality (VR) has quickly propelled itself into the mainstream this year. Facebook's Oculus launched its Rift headset, while Sony is releasing its own VR headset this fall and is already partnering with hundreds of content creators to make VR games. Meanwhile, NVIDIA (NASDAQ:NVDA) recently launched three new notebook graphics cards that are all VR-ready and come within 10% of their desktop counterparts in performance.
In all the excitement, the VR play coming from Alphabet's (NASDAQ:GOOG) (NASDAQ:GOOGL) Google has slid a little under the radar. Google's upcoming Daydream VR platform and services hub is reportedly launching in just a few weeks -- according to Bloomberg -- and it could do more for VR this year than any of the above product launches combined.
Google's Daydream
Daydream was announced at Google's I/O conference back in the spring. The goal behind Daydream is to create one main hub for mobile VR users to access video content and apps made specifically for their devices, meaning it's both a type of platform that will run VR content and a place to access the content. A recent update to Google's latest Android OS, Nougat, adds Daydream compatibility.
Google is investing a lot to make Daydream a success. The company is paying content creators from YouTube and other sources hundreds of thousands of dollars to create VR content. It's also partnered with Hulu, HBO, the game-maker Ubisoft, and the MLB and NBA to bring content to Daydream. All of these partnerships will create a foundation for Daydream as it expands into a mobile VR superstore.
The...
More