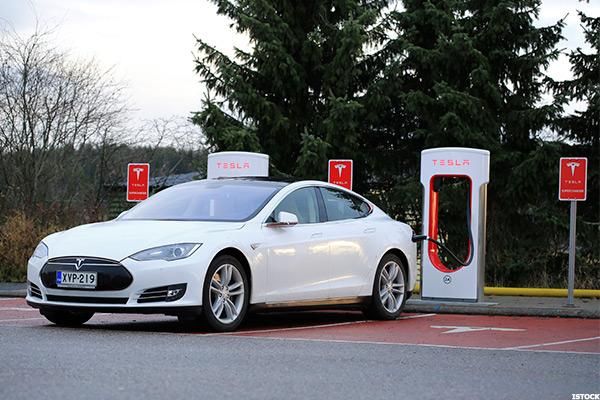 With its market cap now above $33 billion, Tesla Motors (TSLA) is very much a company that isn't valued based on what it accomplished in its last quarter or the upcoming one, but on what it's expected to do in the years to come. On this count, Tesla's second-quarter report didn't contain any massive surprises, and thus markets have responded with a shrug of the shoulders.
With strong spending weighing on its bottom line -- adjusted operating expenses rose 31% annually to $452 million, largely due to SG&A spending growth -- Tesla reported second-quarter adjusted EPS of -$1.06, down from a 48-cent loss a year ago and below a 52-cent loss consensus estimate. Adjusted revenue rose 31% to $1.56 billion, falling short of a $1.62 billion consensus.
As pre-announced a month ago, second-quarter car deliveries fell short of original guidance of 17,000 -- Tesla blames production challenges early in the quarter -- and officially totaled 14,402. However, Tesla declares production improved to nearly 2,000 vehicles per week by the end of the second quarter, and -- though there's skepticism about its ability to hit this target -- is reiterating guidance for 50,000 deliveries in the second half of 2016.
On the other hand, Tesla has hiked its full-year operating expense growth guidance to 30% from the 20% to 25% it guided for in its first-quarter report. The company's retail expansion efforts are playing a role here:...
More