Back in September, Turing Pharma CEO Martin Shkreli caused a veritable firestorm when he moved to boost the price of a toxoplasmosis drug by 5000%.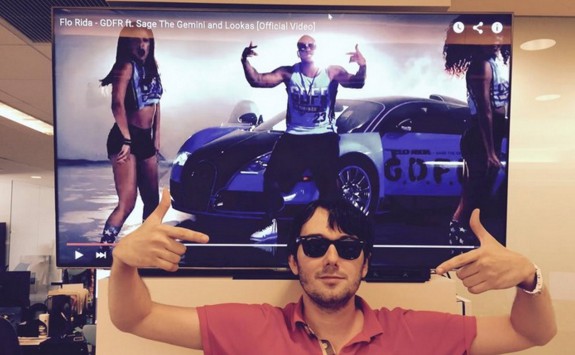 That rather egregious example of unbridled greed immediately caused the American public as well as lawmakers in Washington to begin taking a closer look at a practice that, as we noted when the whole Turing debacle began, happens all the time in Big Pharma even if they're careful to be a bit less audacious about it than Shkreli. 
Hillary Clinton herself took aim at the industry in a tweet which promptly tanked biotech shares proving that when it comes to moving markets, perhaps Janet Yellen doesn't have anything on America's political aristocracy.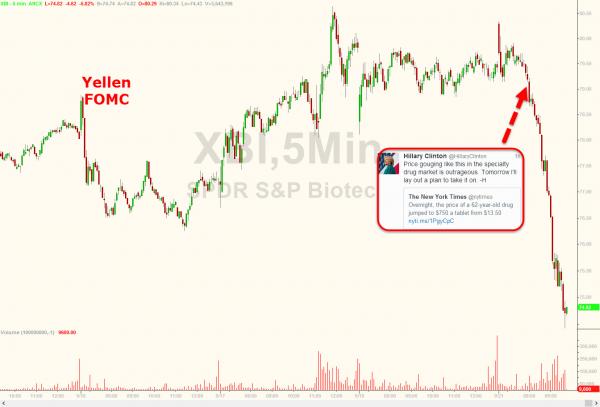 Indeed, the scrutiny on beleaguered Valeant and its relationship with Philidor doesn't seem set to abate anytime soon (sorry Bill). Via Bloomberg: 
Weeks before Valeant Pharmaceuticals International Inc. said it would cut ties with Philidor Rx Services, the drugmaker was planning to expand its use of the mail-order pharmacy, said three people familiar with the matter.

 

Philidor was on the brink of becoming a larger part of Valeant's operations as the drugmaker planned to widen the pharmacy's role beyond dermatology to other lines of medications, the people said. 

 

Philidor also hired a number of former Valeant employees, according to an outside spokeswoman for Valeant. The workers, part of a group of about 30 people that helped show doctors how to direct patients to Valeant products, were dismissed by the drugmaker, with severance, before being subsequently hired by Philidor, the spokeswoman said. They followed a Valeant manager named Gary Tanner who, before leaving Valeant in September, led the drugmaker's so-called Access Team, she said.
There's your "limited" relationship.
Don't look now but not only are House Democrats pushing for a vote to subpoena CEOs of Valeant and Turing to hand over documents on drug-price increases, but Senators Susan Collins (R-Maine) and Claire McCaskill (D-Mo.), who together lead the Senate Special Committee on Aging, have opened a bipartisan investigation into pharmaceutical drug pricing. 
In the crosshairs are Valeant, Turing, Retrophin (founded by Shkreli), and Rodelis.
From the press release
U.S. Senators Susan Collins (R-Maine) and Claire McCaskill (D-Mo.), who together lead the Senate Special Committee on Aging, today announced a bipartisan Senate investigation into pharmaceutical drug pricing. The announcement follows a series of media reports detailing dramatic drug price increases—often on older, off-patent drugs—after the acquisition or merger of pharmaceutical companies.
"The sudden, aggressive price hikes for a variety of drugs used widely for decades affect patients and health care providers and the overall cost of health care. These substantial increases have the potential to inflate the cost of health care for Americans, especially our seniors, by hundreds of millions of dollars each year," said Chairman Collins. "Given the potential harm to patients across our country who rely on these drugs for critical care and treatment, the Senate Special Committee on Aging considers these massive price increases worthy of a serious, bipartisan investigation into the causes, impacts, and potential solutions."
"Some of the recent actions we've seen in the pharmaceutical industry—with corporate acquisitions followed by dramatic increases in the prices of pre-existing drugs—have looked like little more than price gouging," said McCaskill, former Missouri State Auditor and courtroom prosecutor. "We need to get to the bottom of why we're seeing huge spikes in drug prices that seemingly have no relationship to research and development costs. I'm proud to help lead this bipartisan investigation so that we can find some answers the public wants and deserves."
The Senators have requested documents and information from four pharmaceutical companies: Valeant Pharmaceuticals, Turing Pharmaceuticals, Retrophin Inc, and Rodelis Therapeutics.  Each request focuses on drugs that have seen recent and significant spikes in price.
"We seek your cooperation with this investigation so that the Committee may better understand drug pricing and related regulatory and public policy concerns. In particular, the Committee wishes to learn more about Turing Pharmaceuticals' recent acquisition of the rights to sell Daraprim, a drug used to treat and prevent infections, from Impax Laboratories and Turing's subsequent decision to increase the price of Daraprim from $13.50 to $750 [per tablet]," reads the Senators' letter to Turing Pharmaceuticals CEO Martin Shkreli.
The Committee's investigation will include an examination of:
Substantial price increases on recently acquired off-patent drugs;
Mergers and acquisitions within the pharmaceutical industry that have sometimes led to dramatic increases in off-patent drug prices; and
The Food and Drug Administration's role in the drug approval process for generic drugs, the agency's distribution protocols, and, if necessary, its off-label regulatory regime.
The Senate Special Committee on Aging has tentatively scheduled an initial hearing on this issue for December 9, 2015 and will hold subsequent hearings, as needed, in the following months.
Seniors account for 13 percent of the population but account for 34 percent of the all prescription medication used.  More than 40 percent of seniors take five or more prescription drugs per day.