AK Steel Holding Corporation AKS has inaugurated a world-class Research and Innovation Center in Middletown, OH. This $36 million state-of-the-art facility is built on 16-acres land near AK Steel's Middletown Works and its West Chester headquarters.

The new center features state-of-the-art laboratories and pilot steelmaking facilities. The center houses 17 prototype laboratories, 17 analytical laboratories and 22 collaborative spaces for employees, customers and suppliers. With the opening of this research center, the company intends to emerge as a leading innovator in carbon, stainless and electrical steels products.

The facility enhances AK Steel ability to deliver new steel products including next-generation advanced high strength carbon and specialty steels. This will enable automotive customers to not only design lighter, more fuel-efficient vehicles that maintain superior strength and safety performance.

Additionally, the facility will produce electrical steels that will make the nation's electricity grid more energy-efficient and perform better in hybrid and electric vehicles' motors. The company will also be able to manufacture new stainless steels that offer superior corrosion resistance for a wide variety of applications.

AK Steel's shares rallied 61.2% over the past six months, outperforming the Zacks categorized Steel-Producers industry's gain of about 25.5%.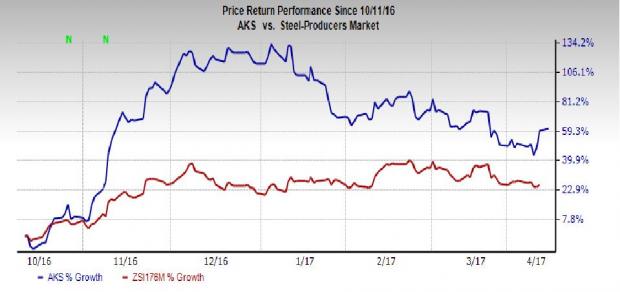 AK Steel remains committed to reduce cost amid a persistent challenging operating environment. The company remains on track with its cost cutting initiatives in 2017 through process improvement, headcount cuts, reduction in process time and procurement activities.

AK Steel is also likely to benefit from the strong momentum in the automotive market. The company expects to expand its core automotive business further in 2017.

However, the company continues to face a challenging macroeconomic environment and weakness in the electrical steel market. It is also exposed to volatility in raw material and steel pricing.
AK Steel Holding Corporation Price and Consensus
AK Steel currently carries a Zacks Rank #3 (Hold).

Stocks to consider

Better-ranked companies in the steel space include POSCO PKX, Ternium S.A. TX and United States Steel Corporation X, all sporting a Zacks Rank #1 (Strong Buy). You can see the complete list of today's Zacks #1 Rank stocks here.

POSCO has an expected long-term growth of 5%.

Ternium has an expected long-term growth of 18.4%.

U.S. Steel has an expected long-term growth of 8%.

Zacks' Hidden Trades

While we share many recommendations and ideas with the public, certain moves are hidden from everyone but selected members of our portfolio services. Would you like to peek behind the curtain today and view them?

Starting now, for the next month, I invite you to follow all Zacks' private buys and sells in real time from value to momentum...from stocks under $10 to ETF to option movers...from insider trades to companies that are about to report positive earnings surprises (we've called them with 80%+ accuracy). You can even look inside portfolios so exclusive that they are normally closed to new investors.  Click here for Zacks' secret trade>>
Want the latest recommendations from Zacks Investment Research? Today, you can download 7 Best Stocks for the Next 30 Days.
Click to get this free report
AK Steel Holding Corporation (AKS): Free Stock Analysis Report
POSCO (PKX): Free Stock Analysis Report
United States Steel Corporation (X): Free Stock Analysis Report
Ternium S.A. (TX): Free Stock Analysis Report
To read this article on Zacks.com click here.
Zacks Investment Research