Facebook, Inc. FB has expanded its feature, called "Find Wi-Fi", which will help users to locate nearby Wi-Fi networks through the app. The expanded rollout of the feature began on Friday to both its iOS and Android apps for devices all around the globe.
Per a Facebook release, this comes after a test period last fall in select countries; where the social media company found that the addition helped serve travelers to avoid hefty international roaming data charges, and especially people using their phones in areas with poor cellular coverage.
It is worth mentioning that places offering Wi-Fi are more likely to have a secure network, which is better than randomly connecting to a questionable public network.
The "Find Wi-Fi" feature shows users a map with the nearest access points mapped. Once activated, the feature automatically detects the locations, along with their business hours and network name. Details about nearby Wi-Fi networks will also appear as a notification, which when tapped opens the Wi-Fi finder tool, in order to view directions to the wireless hotspot, per media reports.
Facebook, Inc. Price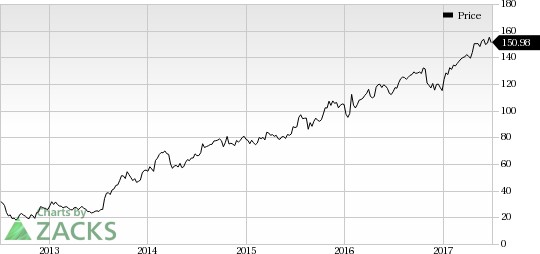 However, the searchable hotspot locations that offer free Wi-Fi for public use, have to be shared by the respective business hosting the network with Facebook from their Page.
Notably, Facebook is using the "Find Wi-Fi" feature to forge a stronger relationship with small businesses. Reportedly, the company is not compiling its own map of open Wi-Fi hotspots, but instead letting businesses register their hotspots so they appear under the new Find Wi-Fi menu in the Facebook mobile app.
Moreover, Facebook's Find Wi-Fi impacts one's privacy, in the sense that users are expected to grant the Facebook app access to their GPS location data on their phone even when not using the app, which is going to take its toll on battery life.
Zacks Rank and Share Price Movement
At present, Facebook carries a Zacks Rank #3 (Hold). We note that Facebook has outperformed the Zacks categorized Internet - Services industry in the last one year. The company's shares increased 32.3% compared with the industry's gain of 21.1%.

Stocks to Consider
Better-ranked stocks worth consideration in the broader tech space include TiVo Corporation TIVO, Quantum Corporation QTM, and Marvell Technology Group Ltd. MRVL all sporting a Zacks Rank #1 (Strong Buy). You can see the complete list of today's Zacks #1 Rank stocks here.
TiVo Corporation, Quantum Corporation, and Marvell Technology Group have delivered average positive earnings surprises of 67.56%, 43.75% and 86.70% respectively in the trailing four quarters.
5 Trades Could Profit "Big-League" from Trump Policies
If the stocks above spark your interest, wait until you look into companies primed to make substantial gains from Washington's changing course.
Today Zacks reveals 5 tickers that could benefit from new trends like streamlined drug approvals, tariffs, lower taxes, higher interest rates, and spending surges in defense and infrastructure. See these buy recommendations now >>
Want the latest recommendations from Zacks Investment Research? Today, you can download 7 Best Stocks for the Next 30 Days.
Click to get this free report
Quantum Corporation (QTM): Free Stock Analysis Report
Facebook, Inc. (FB): Free Stock Analysis Report
Marvell Technology Group Ltd. (MRVL): Free Stock Analysis Report
TiVo Corporation (TIVO): Free Stock Analysis Report
To read this article on Zacks.com click here.
Zacks Investment Research