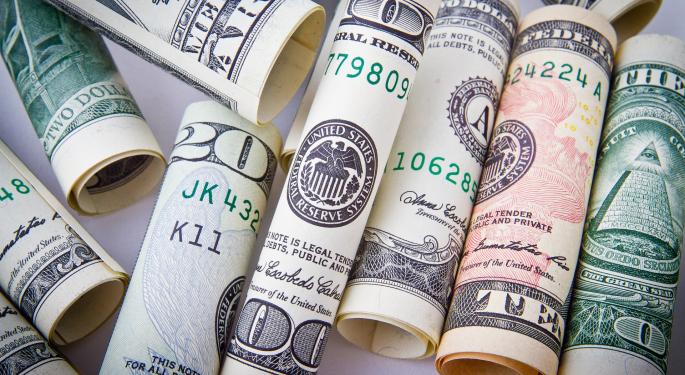 Three more big banks will step into the earnings spotlight this week.
Consensus forecasts from Wall Street analysts call for top-line declines from all three of them.
However, one is expected to offer some growth in earnings, relative to the year-ago period.
Wall Street expectations are still pretty low for second-quarter results from Bank of America Corp BAC, Goldman Sachs Group Inc GS and Morgan Stanley MS, even in the wake of strong results from JPMorgan and solid numbers from Citigroup and Wells Fargo last week.
The Wall Street forecasts call for shrinking revenue, relative to the same period of last year, from all three big banks scheduled to report earnings this week. However, unlike the other two, Goldman will show solid growth on the bottom line, if the analysts are correct.
Below is a quick look at what is expected from the reports of these three banks, as well as a peek at some of other companies that also are on tap to share their quarterly results this week.
Related Link: Bank Earnings Blitz: PNC, UBS, Citigroup And Wells Fargo Deliver Solid Numbers
Bank of America
In its report first thing Monday, this financial services giant is expected to say that in its second quarter it had earnings of $0.35 per share, according to 119 Estimize respondents. That would be a dime less than in the same period of last year. The Wall Street consensus estimate is just $0.33 per share, but note that the analysts underestimated EPS by as much as 25 percent in three of the past four recent quarters.
The Estimize revenue estimates were less than the posted results in the previous two quarters, and this time the respondents are looking for about $20.57 billion. The Wall Street revenue forecast is $20.41 billion. In the same period of last year, the bank reported $22.34 billion in revenue.
Goldman Sachs
The consensus Wall Street forecast calls for this multinational banking company to post second-quarter earnings of $3.00 per share (which would be more than a dollar higher than in the year-ago period), but for revenue to have tumbled more than 16 percent to $7.58 billion in the period. Note that the bank fell short of consensus EPS expectations in three of the previous four quarters.
Estimize is a bit more optimistic, with the consensus of 82 respondents pegging earnings at $3.12 per share on revenue of $7.63 billion for the three months that ended in June. Back in the first quarter, Estimize overestimated the numbers on both the top and bottom lines.
Goldman is scheduled to share its latest results before Tuesday's opening bell.
Morgan Stanley
The second-quarter profit of this global investment bank is predicted to have slipped $0.20 per share, according to Wall Street analysts, from the $0.79 reported a year ago. The consensus of 26 Estimize respondents has earnings coming in at $0.62 per share. Note that first-quarter earnings handily topped both forecasts.
In Wednesday morning's report, analysts are looking for $8.33 billion in revenue for the three months that ended in June, which is about the same as the $8.33 billion that Estimize is looking for. Back in the previous quarter, revenue topped the Estimize forecast. Both forecasts are well short of the $9.56 billion that Morgan Stanley reported in the same period of last year.
And Others
Other financials that Wall Street analysts expect to show at least some earnings decline when they report this week include American Express, BB&T, Blackstone, Capital One, Charles Schwab, Citizens Financial, Discover Financial Services, M&T Bank, Northern Trust, PayPal, Regions Financial and TD Ameritrade.
However, as with Goldman Sachs, the consensus forecasts call for EPS at Bank of New York Mellon, Comerica, Huntington Bancshares, SunTrust Bank, Synchrony Financial, Travelers and Visa to be greater than a year ago.
At the time of this writing, the author had no position in the mentioned equities.
Keep up with all the latest breaking news and trading ideas by following
https://twitter.com/Benzinga
on Twitter.
© 2016 Benzinga.com. Benzinga does not provide investment advice. All rights reserved.