Thanks to lingering worries about oversupply, oil saw the worst first-half performance since 1998, tumbling 14%. This is especially true as optimism surrounding the historic OPEC output cut deal was overshadowed by surging production in the U.S., Libya and Nigeria as well as high global inventories leading to a decline in oil price (read: Profit from Bearish Oil Market with These ETFs).

The current indicators have been bearish given the barrage of negative data flow that point to a period of protracted lower oil prices. U.S. is producing oil near its highest level of 9.3 million barrels per day since August 2015. The Energy Information Administration (EIA) expects U.S. oil production to increase to 10 million barrels a day next year, breaking the 1970 record of 9.6 million barrels a day. Most of the production growth is expected to come from increased drilling activity in U.S. tight oil basins especially those located in Texas as drillers are taking full advantage of the OPEC deal to limit output in a bid to shrink global oversupply.

Libya is currently pumping 885,000 barrels a day per week, roughly three times the year-ago production and aims to raise production to 1 million barrels a day by the end of July. Meanwhile, exports from Nigeria are expected to exceed 2 million barrels per day in August — the highest in 17 months — as the country is on track to recover fully from militant attacks that crippled production in 2016.

Given the increased supply from these three countries, most analysts expect oil price to drop further.

Oil Refining Thriving

Given the unfavorable fundamentals and a bleak oil outlook, almost every corner of the energy segment is suffering except oil refining, which is negatively correlated with the price of oil. This is because the players in this industry use oil as an input for processing refined petroleum products like gasoline. Hence, lower oil prices are boosting margins for refiners, leading to healthy stock prices (read: Oil ETFs: Short-Term Bane, Long-Term Boon).

This trend is likely to continue if crude prices (input costs) remain lower or continue to fall further, leading to higher spreads. Spread is the difference in price between a barrel of oil and a barrel of refined product like gasoline, diesel, or jet fuel. As a result, the higher the spread, the more the profits will be for oil refiners.

That said, as long as the spread remains stable at the current levels, refiners are expected to outperform the rest of the energy sector. Investors could tap the rising opportunity in this niche segment with the pure play ETF VanEck Vectors Oil Refiners ETF CRAK. It is a one-stop shop for investors to play the oil refining market.

CRAK in Focus

CRAK looks to follow the MVIS Global Oil Refiners Index. The benchmark measures the performance of the largest and most liquid companies in the global oil refining segment, which includes gasoline, diesel, jet fuel, fuel oil, naphtha and other petrochemicals. The product has accumulated $4.6 million in its asset base within two years of its inception. It has returned 12.4% so far this year, outperforming not only the energy sector but also the broad market fund SPY, which has gained 9.4% (read: Energy ETF Hits New 52-Week High).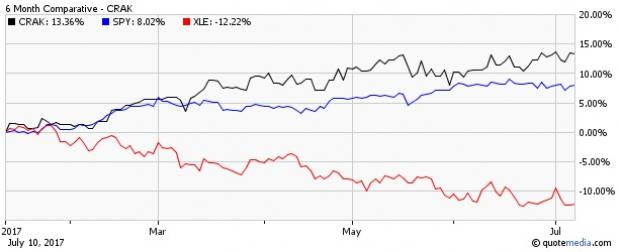 Any Downside Risk?

The fund is heavily concentrated on the top 10 firms with huge allocations to Phillips 66 PSX, Reliance Industries and Valero Energy VLO that collectively make up for one-fourth of the portfolio. This increases company-specific risk and suggests that the top firms dominate the fund's returns. Additionally, the oil refining and marketing industry has a Zacks rank in the bottom 20%, suggesting some pain in the coming months.

Further, the fund is not a pure American play and hence exposed to currency risk. More than half the portfolio offers international exposure, namely Japan, India, Austria, Poland, Finland, Thailand, Portugal, South Korea, Taiwan and many others (see: all the energy ETFs here).

Investors should note that it is a relatively high cost choice in the energy space. It charges a bit higher fee of 59 bps compared with the expense ratio of 0.15% for the broad sector fund – Energy Select Sector SPDR XLE. The fund also has a wide bid/ask spread as it trades in a paltry average daily volume of about 1,000 shares, which increases its total cost of trading beyond the expense ratio.

Bottom Line

Given the encouraging outlook for the oil refiners, CRAK could prove to be the lone star in the energy space in a plunging oil price environment.

Want key ETF info delivered straight to your inbox?

Zacks' free Fund Newsletter will brief you on top news and analysis, as well as top-performing ETFs, each week. Get it free >>
Want the latest recommendations from Zacks Investment Research? Today, you can download 7 Best Stocks for the Next 30 Days.
Click to get this free report
SPDR-SP 500 TR (SPY): ETF Research Reports
SPDR-EGY SELS (XLE): ETF Research Reports
VANECK-OIL REF (CRAK): ETF Research Reports
Valero Energy Corporation (VLO): Free Stock Analysis Report
Phillips 66 (PSX): Free Stock Analysis Report
To read this article on Zacks.com click here.
Zacks Investment Research
Want the latest recommendations from Zacks Investment Research? Today, you can download 7 Best Stocks for the Next 30 Days. Click to get this free report