5 Trade ideas excerpted from the detailed analysis and plan for premium subscribers:
TD Ameritrade, Ticker: $AMTD
TD Ameritrade, $AMTD, started higher off of a base over the 2nd Quarter, stalling s it reached the prior high from January in July. It pulled back to a higher low and then pushed to a higher high in September. It came back to retest the prior high and then reversed again to move even higher. The pullback into November then made another higher low last week as it reversed Friday. The RSI is also turning back up at the mid line and bullish while the MACD is falling. Look for continuation to participate higher…..
Cincinnati Financial, Ticker: $CINF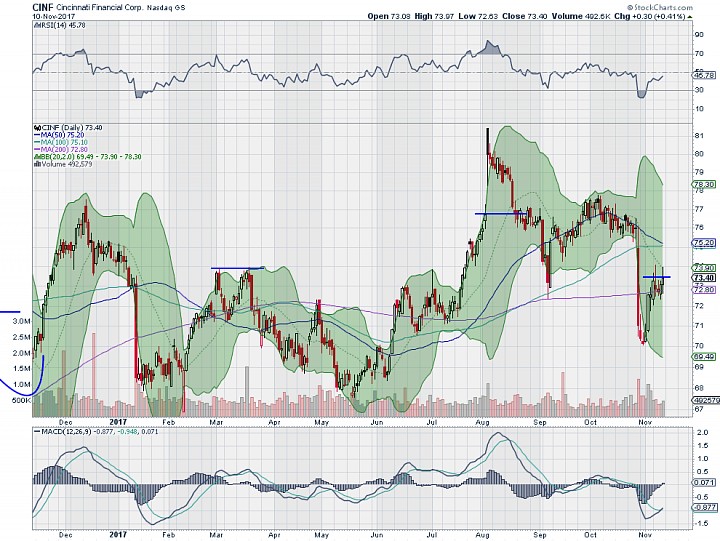 Cincinnati Financial, $CINF, started higher in May, ending with a blow off top at the beginning of August. From there it pulled back in 2 steps the last one finding support near 70 at the end of October. The bounce from there stalled at the 200 day SMA and is consolidating. The RSI is pushing up to the mid line while the MACD is crossing up. Look for a break of consolidation to the upside to participate…..
Kraft Heinz, Ticker: $KHC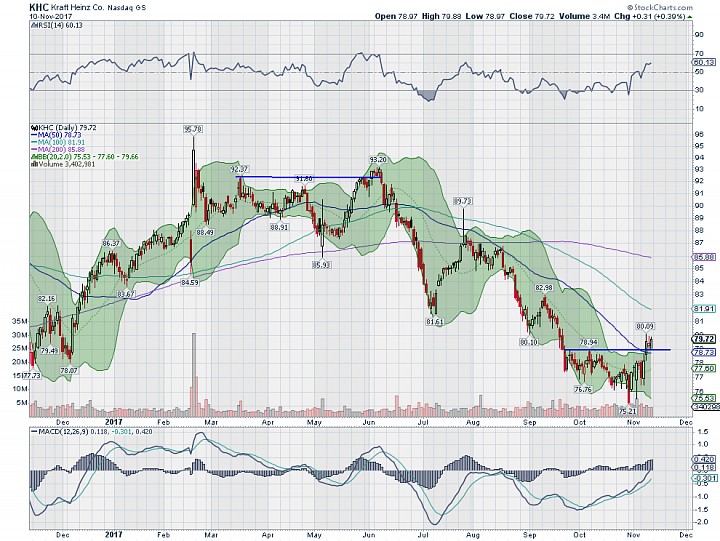 Kraft Heinz, $KHC, started moving lower off of a high in February. It stalled and bounced in July, but what was turned back lower at the 200 day SMA. Since then it has continued lower into the end of October. It started to recover 3 weeks ago and last week pushed to its first higher high and over the 50 day SMA. The RSI is rising and in the bullish zone with the MACD also moving higher. Look for continuation to participate…..
Micron Technology, Ticker: $MU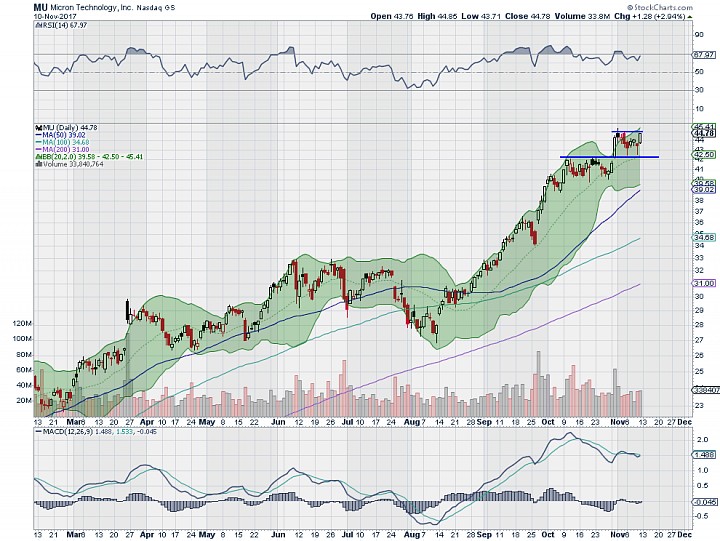 Micron Technology, $MU, had a minor pullback that ended in August and went gangbusters to the upside from there until October. It paused in a sideways motion then until pushing higher 2 weeks ago. This resulted in a higher consolidation. The RSI is strong in the bullish zone and the MACD is trying to cross back up. Look for a new high to participate higher…..
UPS, Ticker: $UPS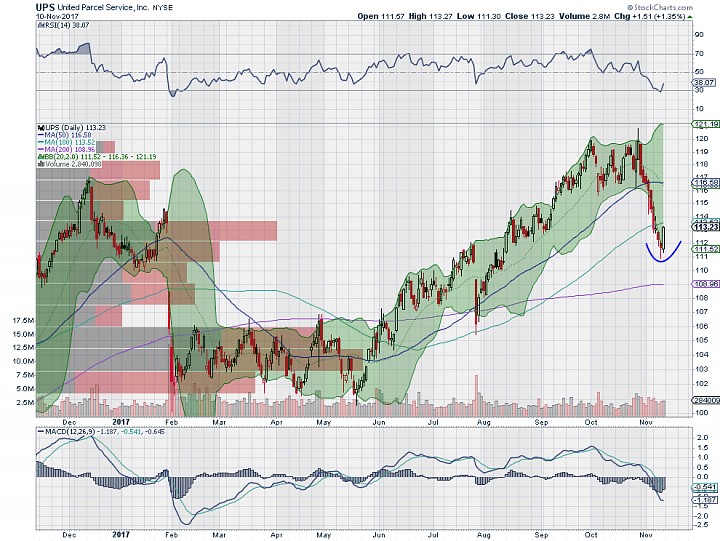 UPS, $UPS, rose out of consolidation in May to a top that spanned October. It pulled back from there and Thursday fond support printing a Hammer reversal candle. It was confirmed higher Friday. The RSI is also turning up and the MACD leveling as it falls. Look for continuation to participate higher…..
Up Next: Bonus Idea
If you like what you see sign up for more ideas and deeper analysis using the Get Premium button above.
After reviewing over 1,000 charts, I have found some good setups for the week. These were selected and should be viewed in the context of the broad Market Macro picture reviewed Friday which heading into November Options Expiration sees the Equity markets have weathered a minor tremor but are still fazed.
Elsewhere look for Gold to pause in its downtrend while Crude Oil slows in its uptrend. The US Dollar Index is looking better to the upside after some consolidation while US Treasuries are biased lower. The Shanghai Composite has gained strength and is rising again while Emerging Markets continue to churn following their break of long term resistance.
Volatility looks to remain at low levels keeping the bias higher for the equity index ETF's SPY, IWM and QQQ. Their charts show strength on the longer timeframe intact, with the SPY and QQQ the strongest and the IWM retesting the breakout. On the shorter timeframe the IWM is most vulnerable as it continues in a long bull flag, while the SPY and QQQ appear to have held off deeper pullbacks for now. Use this information as you prepare for the coming week and trad'em well.
If you like what you see above sign up for deeper analysis and trading strategy by using the Get Premium button above. As always you can see details of individual charts and more on my StockTwits page.
The information in this blog post represents my own opinions and does not contain a recommendation for any particular security or investment. I or my affiliates may hold positions or other interests in securities mentioned in the Blog, please see my Disclaimer page for my full disclaimer.
Sponsored Links
.
Standard News21 Abandoned Airplanes Discovered, What They Found Was BreathtakingStandard News
Gundry MDHow To Fix Your Fatigue (Do This Every Day)Gundry MD
IFLMyLife17 Celebs You Didn't Know Were Transgender - No. 9 Caught Us Off GuardIFLMyLife
JuveTressWant A Gorgeous Head Of Hair Again? Don't Use This Popular ProductJuveTress
HyperactivzBarbi Benton Was Gorgeous In The 70s, But What She Looks Like Now Is IncredibleHyperactivz
HARP Mortgage QuizHomeowners Born Before 1985 Get A Big Pay DayHARP Mortgage Quiz








More