Volkswagen AG VLKAY has recently made a strategic partnership with the U.S. technology company, NVIDIA Corporation NVDA. The partnership is done with an aim to expand Volkswagen's expertise in the field of Artificial Intelligence and deep learning.

At Volkswagen's Data Lab, a competence center for artificial intelligence, explorations are made on new prospects to use deep learning in corporate processes as well as in the field of mobility services. As an example, it has been working on the development of new techniques for optimizing traffic flow in cities. Advanced AI systems are one of the essentials for such developments.

Per Dr. Martin Hofmann, CIO of Volkswagen, artificial intelligence is the key to development of the company's digital future. With an aim to build up and utilize a high-performance AI system, it is amplifying its expert knowledge. A tie-up with NVIDIA is a step into this direction.

In addition to its knowledge expansion plans, Volkswagen has established a startup support program at its Data Lab. The program will provide technical and financial assistance to five international startups, focused on developing machine learning and deep learning applications for the automotive industry. The program is to commence this fall.

Of late, many automotive companies are using artificial intelligence for new product development. Recently, Autoliv and Volvo Cars have teamed up with NVIDIA to develop next-generation software systems for self-driving cars. This new software system will help using artificial intelligence recognize objects around vehicles, predict danger as well as depict safety roadmaps.

Based in Wolfsburg, Germany, Volkswagen is the largest automobile manufacturer in Europe. They design, manufacture and distribute products and services along the entire automotive value chain. While each brand has a distinct personality, it also benefits from its membership of the Volkswagen Group with its global manufacturing base.

Price Performance

Volkswagen shares have outperformed the Zacks categorized Automotive-Foreign industry in the last three months. The company's shares rose 3.6% compared with the industry's decline of 5.2%.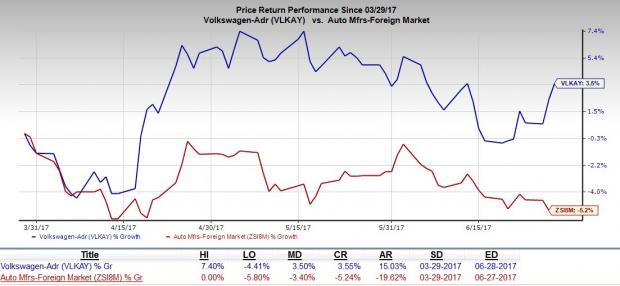 Zacks Rank & Key Picks

Volkswagen currently carries a Zacks Rank #2 (Buy).

Volkswagen AG Price and Consensus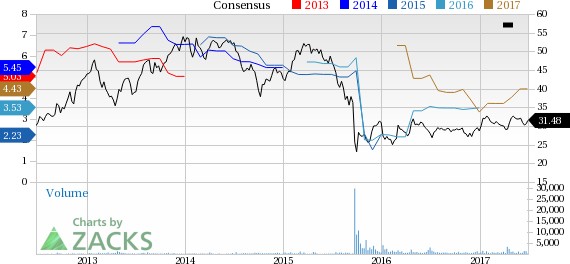 Other worth-noting stocks in the same space are Fox Factory Holding Corp. FOXF and Dana Incorporated DAN. Fox Factory Holding and Dana carry a Zacks Rank #2 (Buy). You can see the complete list of today's Zacks #1 Rank (Strong Buy) stocks here.

Fox Factory Holding has an expected long-term growth rate of 15.6%.

Dana has an expected long-term growth of 3%.

Today's Stocks from Zacks' Hottest Strategies

It's hard to believe, even for us at Zacks. But while the market gained +18.8% from 2016 - Q1 2017, our top stock-picking screens have returned +157.0%, +128.0%, +97.8%, +94.7%, and +90.2% respectively.

And this outperformance has not just been a recent phenomenon. Over the years it has been remarkably consistent. From 2000 - Q1 2017, the composite yearly average gain for these strategies has beaten the market more than 11X over. Maybe even more remarkable is the fact that we're willing to share their latest stocks with you without cost or obligation. See Them Free>>
Want the latest recommendations from Zacks Investment Research? Today, you can download 7 Best Stocks for the Next 30 Days.
Click to get this free report
Fox Factory Holding Corp. (FOXF): Free Stock Analysis Report
Volkswagen AG (VLKAY): Free Stock Analysis Report
Dana Incorporated (DAN): Free Stock Analysis Report
NVIDIA Corporation (NVDA): Free Stock Analysis Report
To read this article on Zacks.com click here.
Zacks Investment Research