EUR/CAD has been trading in a more or less sideways market since falling to about 1.42 in April. 

EUR/CAD 4H Chart 8/16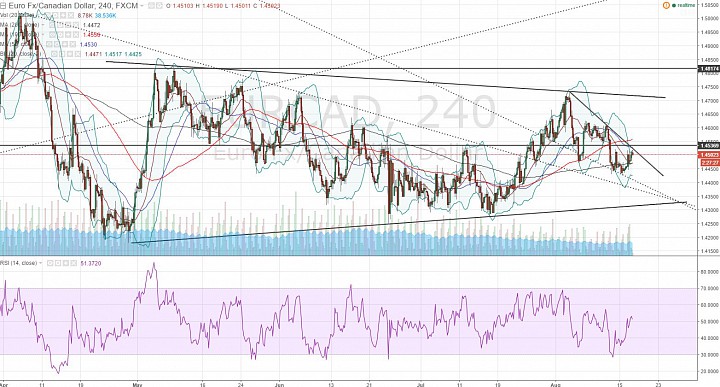 (click to enlarge)
Bullish signals:
- While the overall mode in 2016 has been bearish-neutral, EUR/CAD has recently made a push in July that could push price back up to at least the May-high around 1.48. 
- The rally in July broke above the cluster of 200-, 100-, and 50-period simple moving averages (SMAs) in the 4H chart. 
- Price also broke above a couple of falling trendlines. 

Pullback:
- As we can see in the 4H chart, the breakout came up to above 1.4730 before pulling back. 
- In a choppy pullback, price has stalled this week just below 1.4450. 

Momentum of truth:
- Now, it looks like the moment of truth is upon EUR/CAD - there is some resistance around 1.4520, but I would treat the area up to 1.4540 as resistance in the short-term.
- If price breaks above 1.4540, it would clear a flat resistance as well as a falling resistance. 
- Furthermore, if the 4H RSI pushes back above 60, the recent bearish momentum in August can be considered dead. 

Bullish scenario:
- Above 1.4540, there is upside towards 1.48-1.4820 area. I think in such a choppy market with no clear trend, technical analysis suggests the April highs around 1.50 might be a bit aggressive. 
Bearish scenario:
- If price holds under 1.4540 on the other hand, we should anticipate a bearish scenario in the short-term in the context of a sideways market in the medium-term. 
- Perhaps, the downside risk if price stays below 1.4540 is around 1.4350, where EUR/CAD would approaching the lows in June and July as well as a rising support line projected from the April-low around 1.42.