Despite ongoing low gas prices, a recovery in stocks, and the nationally-advertised unemployment rate remaining low, Consumer Confidence tumbled in October from eight-year highs to three-month lows. Worse still, "hope" slid to its lowest in 3 months as "jobs plentiful" slid notably with fewer jobs and decreasing income.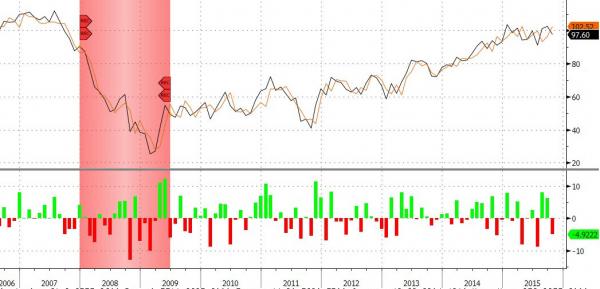 Though Americans' confidence in the economy remains negative, it has also not gotten worse after recovering from the year's low point of -17 in August.

 

October has brought some positive news as the Dow recovers, with gas prices and the national unemployment rate remaining relatively low. But amid these encouraging signs, major U.S. corporations are reporting a dip in sales and profits, and have signaled a slowing of production that could continue into 2016. None of these factors appears to have been enough to cause Americans to readjust their economic outlook in recent weeks.

 

For their part, Americans are not as optimistic as they were at the start of 2015, when the consistent decline in gas prices that began late last year helped make them more positive about the economy. Gas prices remain low relative to where they were in the summer of 2014, but Americans may be accustomed to the lower prices now and this may not have as much impact on their views of the U.S. economy's health as it did in late 2014 and early 2015. Other factors, like the struggles of the stock market for much of this year, may be more top-of-mind now. And while their confidence in the economy's current health is only slightly negative, their sense of the direction in which the economy is heading is even less rosy.
Charts: Bloomberg