In my last post written on Sunday (see You can't hurry tops!), I had postulated a rally to test the old SPX highs and possibly make marginal new highs. The market promptly went up on Monday. Overnight, the PBoC announced a 1.9% devaluation of the RMB against the USD. The market interpreted the move as panic by the policy makers in Beijing and a general risk-off environment followed.
We know that we can't anticipate central bank interventions and announcements, but we can learn about the character of the market by the way it reacts to news. In my last post, I wrote that I would be watching the relative performance of the leadership sectors, namely Financials (via Financial Select Sector SPDR (ARCA:XLF)), Consumer Discretionary (via Consumer Discretionary Select Sector SPDR (ARCA:XLY)) and Health Care (via Health Care Select Sector SPDR (ARCA:XLV)), which comprise over 50% of the weight of the SPX. As long as the relative strength of these sectors held up, the bull case was intact.
Here is what has happened since. As the chart below shows, the relative uptrend of Financial stocks (top panel) remains intact. However, the short-term relative uptrends (dotted lines) of Consumer Discretionary (second panel) and Health Care (third panel) stocks were violated. Their longer term uptrends, however, remain intact.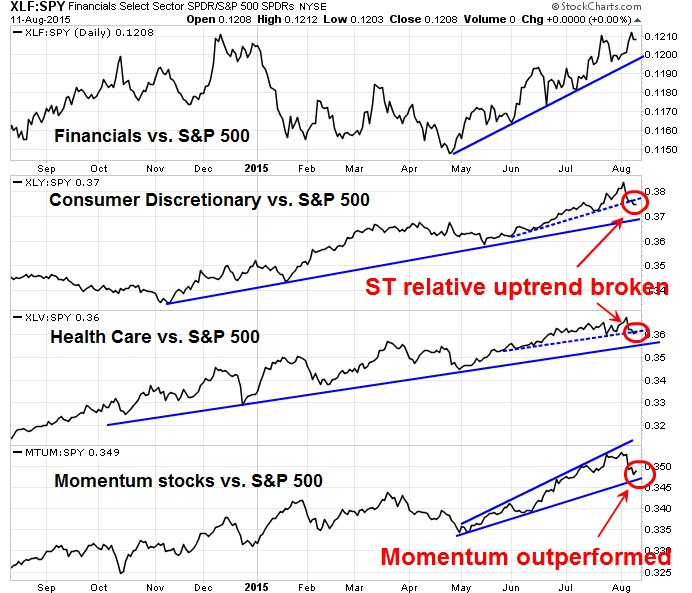 While these developments are discouraging for the bull case, there is a silver lining. The relative uptrend of the high beta momentum stocks is still in place. In fact, momentum stocks (via iShares MSCI USA Momentum Factor ETF (NYSE:MTUM)) outperformed on Tuesday even as the market got clobbered.
We can also see this effect by the way the market reacted to the corporate reorganization at Google (NASDAQ:GOOGL), whose stock price soared on Tuesday despite the negative tone of the market. Felix Salmon wrote about the bullish and bearish points to the reorganization. Here is a sample of the more bearish elements.
B is for boredom. Larry is the founder and CEO of one of the most...
More