Cardiome Pharma Corp. CRME announced that its partner SteadyMed Ltd. STDY has submitted a new drug application (NDA) to the FDA for its lead candidate, Trevyent (treprostinil injection), for treatment of pulmonary arterial hypertension (PAH). The company plans to launch the product in mid-2018, subject to the FDA approval.

We note that Trevyent is a drug device combination of SteadyMed's proprietary PatchPump technology with its preservative-free, parenteral treprostinil formulation for treating PAH. In Jun 2015, Cardiome Pharma had signed a license and supply agreement with SteadyMed for Trevyent to commercialize the candidate upon approval in Europe, Canada and the Middle East.

Presently, Trevyent is under review in the EU and SteadyMed plans to file for it in the same as well as in Health Canada by the end of 2017.

We note that in Apr 2017, SteadyMed had announced the successful completion of a clinical validation study for Trevyent which supported its NDA submission. The study's objective was to evaluate the safety and performance of Trevyent's proprietary delivery system PatchPump, including dose accuracy plus precision. The trial also evaluated the product's tolerability. This validation program was conducted on 60 healthy adult volunteers and the results indicate that the PatchPump devices performed as intended in all categories of evaluation.

Cardiome's shares have significantly outperformed the Zacks classified Medical-Drugs industry so far this year. The stock rallied 63.8% compared with the broader industry's advance of 5.7%.





PAH is a progressive disease without cure. Sad but true, many patients continue to deteriorate with currently approved therapies. This enhances market opportunities for Trevyent as a better way to administer treprostinil in patients around the world who are suffering from PAH.

However, the PAH market is already crowded with players like United Therapeutics Corporation UTHR, Actelion Ltd. and Gilead Sciences Inc., among others. United Therapeutics' Remodulin is one of the leading therapies for PAH. The company is also working with Medtronic to get an implantable pump for delivering Remodulin (RemoSynch), approved by the FDA. Actelion boasts a comprehensive PAH portfolio with drugs like Opsumit, Tracleer, Ventavis and Veletri. Actelion was acquired last month by Johnson & Johnson JNJ. Gilead's PAH drug includes Letairis (ambrisentan).
Cardiome Pharma Corporation Price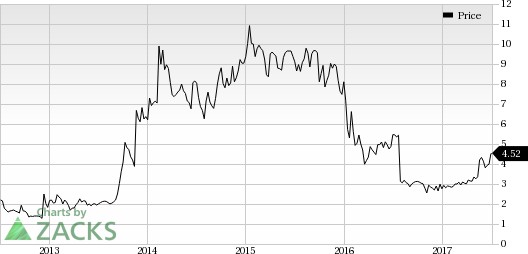 Cardiome Pharma Corporation Price | Cardiome Pharma Corporation Quote
Zacks Rank
Cardiome currently carries a Zacks Rank #3 (Hold). You can see the complete list of today's Zacks #1 Rank (Strong Buy) stocks here.
Today's Stocks from Zacks' Hottest Strategies
It's hard to believe, even for us at Zacks. But while the market gained +18.8% from 2016 - Q1 2017, our top stock-picking screens have returned +157.0%, +128.0%, +97.8%, +94.7%, and +90.2% respectively.
And this outperformance has not just been a recent phenomenon. Over the years it has been remarkably consistent. From 2000 - Q1 2017, the composite yearly average gain for these strategies has beaten the market more than 11X over. Maybe even more remarkable is the fact that we're willing to share their latest stocks with you without cost or obligation. See Them Free>>
Want the latest recommendations from Zacks Investment Research? Today, you can download 7 Best Stocks for the Next 30 Days.
Click to get this free report
Johnson & Johnson (JNJ): Free Stock Analysis Report
United Therapeutics Corporation (UTHR): Free Stock Analysis Report
Cardiome Pharma Corporation (CRME): Free Stock Analysis Report
SteadyMed Ltd. (STDY): Free Stock Analysis Report
To read this article on Zacks.com click here.
Zacks Investment Research