Clovis Oncology, Inc. CLVS incurred third-quarter 2017 loss of $1.24 per share, which was narrower than the year-ago loss of $1.70 per share. However, the reported figure was wider than the Zacks Consensus Estimate of a loss of $1.16.
Clovis' only marketed drug, Rubraca, was granted accelerated approval by the FDA in December 2016 for the treatment of advanced ovarian cancer in patients who have received prior chemotherapies.
Net product revenues, entirely from Rubraca, were approximately $16.8 million in the quarter, up 15.1% sequentially. However, it missed the Zacks Consensus Estimate of $20.46 million. Markedly, the company registered 1100 new patients in the reported quarter. However, adoption of Rubraca was slower due to limited BRCA mutant label and increased competition from recently approved maintenance therapies including Tesaro, Inc.'s TSRO Zejula and AstraZeneca PLC's AZN Lynparza.
In the year-ago quarter, Clovis did not generate any revenues.
Shares of the company declined 4.47% in after-market trading on Wednesday on lower-than-expected Rubraca sales. Nonetheless, Clovis significantly outperformed the industry year to date. While the stock has been up 64%, the industry gained 2.7%.

Quarter in Detail
During the third quarter, research & development expenses decreased 28.4% year over year to $38.9 million primarily due to decreased development activities related to Rubraca and rociletinib programs. However, selling, general and administrative (SG&A) expenses climbed 280% year over year to $35 million, reflecting increased activities to support commercialization of Rubraca.
Cash used in operating activities in the quarter was $45.8 million, less than $60.3 million in the year-ago quarter.
Clovis ended the quarter with $628 million of cash equivalents and available-for-sale securities supported by the proceeds raised through share offerings in January and June.
Update on Rubraca
Last month, Clovis submitted a supplemental new drug application (sNDA) for Rubraca seeking label expansion as a maintenance treatment for patients with platinum-sensitive recurrent ovarian cancer. The sNDA was submitted based on positive data from ARIEL 3 confirmatory study.
Rubraca is also under review in the EU for a comparable ovarian cancer indication. Clovis expects an opinion from the Committee for Medicinal Products for Human Use later this year. Additionally, it has plans to submit a supplemental application for the second-line or later maintenance treatment indication in the EU, upon potential approval in ovarian cancer.
In July 2017, Clovis collaborated with Bristol-Myers Squibb Company BMY to evaluate Rubraca in combination with the latter's Opdivo in multiple tumor types. After ARIEL 3, another confirmatory study – ARIEL4 – is evaluating Rubraca versus chemotherapy in patients who have failed two prior lines of therapy and is open for enrolment.
Going forward, Clovis plans to expand Rubraca's label into additional indications like prostrate, breast and pancreatic cancers, among others either as monotherapy or in combination with other agents.
Clovis Oncology, Inc. Price, Consensus and EPS Surprise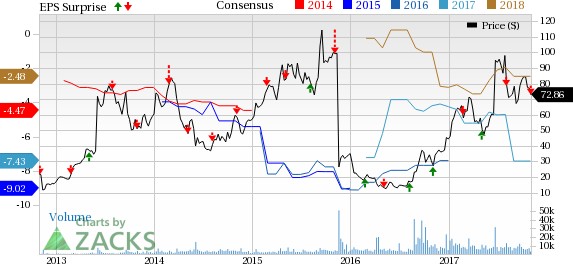 Clovis Oncology, Inc. Price, Consensus and EPS Surprise | Clovis Oncology, Inc. Quote
Zacks Rank
Clovis holds a Zacks Rank #2 (Buy). You can see the complete list of today's Zacks #1 Rank (Strong Buy) stocks here.
Zacks' Best Private Investment Ideas
While we are happy to share many articles like this on the website, our best recommendations and most in-depth research are not available to the public.
Starting today, for the next month, you can follow all Zacks' private buys and sells in real time. Our experts cover all kinds of trades… from value to momentum . . . from stocks under $10 to ETF and option moves . . . from stocks that corporate insiders are buying up to companies that are about to report positive earnings surprises. You can even look inside exclusive portfolios that are normally closed to new investors.
Click here for Zacks' private trades >>
Want the latest recommendations from Zacks Investment Research? Today, you can download 7 Best Stocks for the Next 30 Days.
Click to get this free report
Astrazeneca PLC (AZN): Free Stock Analysis Report
Bristol-Myers Squibb Company (BMY): Free Stock Analysis Report
Clovis Oncology, Inc. (CLVS): Free Stock Analysis Report
TESARO, Inc. (TSRO): Free Stock Analysis Report
To read this article on Zacks.com click here.
Zacks Investment Research