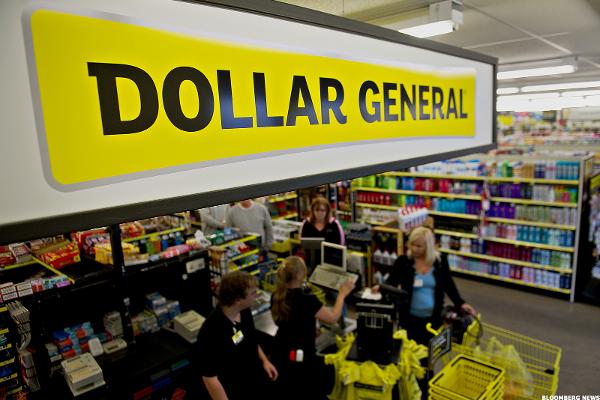 Analysts at Barclays cut their price targets on Dollar General (DG) and Dollar Tree (DLTR) stocks on Thursday as the discount retailers face increasing competition from Walmart Stores (WMT) and pressure to reduce prices.
"Based on insight from companies that have reported 3Q-to-date and our view of the industry (rise of Walmart, increased level of competition in the dollar channel, deflation persisting into 2017, etc.), we believe the operating environment is likely to be more difficult than we originally modeled in the second half of 2016 and into fiscal 2017," the firm wrote in an analyst note today.
At Dollar General price reductions of about 10% on average are widely anticipated for about 450 stock keeping units (SKUs) at 2,200 stores in an effort to drive stronger traffic.
"While we do not expect a 'race to the bottom' at dollar stores, our price checks solidify our view that Family Dollar may eventually have to take steps to narrow (or close) its pricing gap with Dollar General," the firm said.
Dollar Tree acquired discount retailer Family Dollar Stores in 2015. At the end of last month, Barclays conducted a pricing study between Dollar General and Family Dollar in Richmond, VA. Across its basket of more than 100 items, prices at Family Dollar were about 5% higher overall. Family Dollar had only eight items that were priced below Dollar General.
"The data suggest, in our view, that DLTR has considerable work to do to improve the prices of high velocity, traffic driving items; we do not believe this is acknowledged by many investors," the firm contended. Based on their analysis, Barclays believes Dollar General remains in a better competitive position than Family Dollar.
Additionally, until the firm gains greater visibility on the second half of the year, it is too early to know if the margin structures at Dollar General and Dollar Tree are sustainable over the long-term due to changing competitive dynamics in the space.
Barclays lowered its price target on Dollar General stock to $70 from $74 and its price target on Dollar Tree to $84 from $88. The firm has "equal weight" ratings on both stocks.
The markets may be unpredictable, but Jim Cramer can show you how to navigate it like a pro. Follow his blue-chip portfolio of stocks at Action Alerts PLUS. Join today and try it for 14 days—FREE!
In August, TheStreet's Jim Cramer, Portfolio Manager of the Action Alerts PLUS charitable trust, said Dollar General and Dollar Tree reported "very disappointing" numbers for the second quarter and that both retailers are being pressured by...
More