U.S. energy firm Apache Corp. APA reported third-quarter earnings per share – excluding one-time items – of 4 cents, versus the Zacks Consensus Estimate for a loss of 5 cents. The bottom line also turned around from the year-ago adjusted loss of 3 cents. The outperformance stems from higher oil and gas realizations, and lower cost.
Revenues of $1,575 million were above the Zacks Consensus Estimate of $1,416 million and was 9.5% above the third-quarter 2016 sales of $1,438 million.
Operational Performance
The production of oil and natural gas (excluding divested assets and non-controlling interests) averaged 353,645 oil-equivalent barrels per day (BOE/d) (68% liquids), down 6.5% from last year. Apache's production for oil and natural gas liquids (NGLs) was 241,722 barrels per day (Bbl/d), while natural gas output came in at 671,533 thousand cubic feet per day (Mcf/d).
The average realized crude oil price during the third quarter was $49.34 per barrel, representing an increase of 11.3% from the year-ago realization of $44.35. Moreover, the average realized natural gas price during the September quarter of 2017 was $2.75 per thousand cubic feet (Mcf), up 6.2% from the year-ago period.
Apache Corporation Price, Consensus and EPS Surprise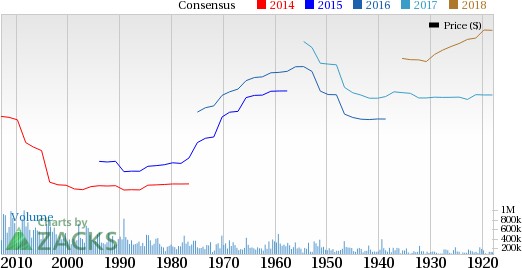 Apache Corporation Price, Consensus and EPS Surprise | Apache Corporation Quote
Balance Sheet, Capital Spending & Lease Operating Expenses
As of Sep 30, 2017, Apache had approximately $1,846 million in cash and cash equivalents. The company had a long-term debt of $7,933 million, representing a debt-to-capitalization ratio of 53.1%.
During the oil rout, Apache – like many other oil and gas players including ConocoPhillips COP and Marathon Oil Corp. MRO – aligned its spending plans with the low-price environment.
But Apache is now looking to increase its capital investment after achieving cost rationalization. With returns-focused growth in mind, Apache announced a 2017 capital budget of $3.1 billion, representing a 60% increase over its 2016 spend. Keeping with the company's planned shift in strategic objective, Apache's oil and gas capital investments totaled $843 million during the July-September period, 95.1% higher than the $432 million incurred a year ago.
Apache's third quarter lease operating expenses totaled $358 million, down 6.3% from the year-ago quarter. However, total costs and expenses fell 36.7% from the third quarter of 2016 to $1,482 million.
Zacks Rank & Stock Picks
Apache currently retains a Zacks Rank #3 (Hold).
A better-ranked player from the same space would be QEP Resources Inc. QEP that sports a Zacks Rank #2 (Buy). You can see the complete list of today's Zacks #1 Rank (Strong Buy) stocks here.
Denver, CO-based QEP Resources is a leading independent energy company engaged in the exploration, development and production of natural gas, crude oil and natural gas liquids. It has a 100% track of outperforming estimates over the last four quarters at an average rate of 38%.
Zacks' Best Private Investment Ideas
While we are happy to share many articles like this on the website, our best recommendations and most in-depth research are not available to the public.
Starting today, for the next month, you can follow all Zacks' private buys and sells in real time. Our experts cover all kinds of trades… from value to momentum . . . from stocks under $10 to ETF and option moves . . . from stocks that corporate insiders are buying up to companies that are about to report positive earnings surprises. You can even look inside exclusive portfolios that are normally closed to new investors.
Click here for Zacks' private trades >>
Want the latest recommendations from Zacks Investment Research? Today, you can download 7 Best Stocks for the Next 30 Days.
Click to get this free report
Apache Corporation (APA): Free Stock Analysis Report
QEP Resources, Inc. (QEP): Free Stock Analysis Report
ConocoPhillips (COP): Free Stock Analysis Report
Marathon Oil Corporation (MRO): Free Stock Analysis Report
To read this article on Zacks.com click here.
Zacks Investment Research