Shares of Foot Locker (FL) have tumbled 31% so far this year, a casualty of the shift in retail from brick-and-mortar stores to the internet. But has the pessimism gotten overdone?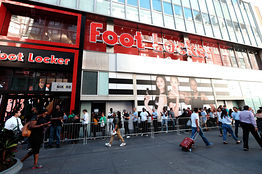 It's difficult to see how that could be the case. Nike (NKE), for instance, is trying to sell more shoes directly to their customers, and it's also agreed to sell its shoes onAmazon.com (AMZN), every retailer's bogey man.
Still, there optimists out there. Wedbush analyst...
More