Inflation, an earnings recession and speculation top culprits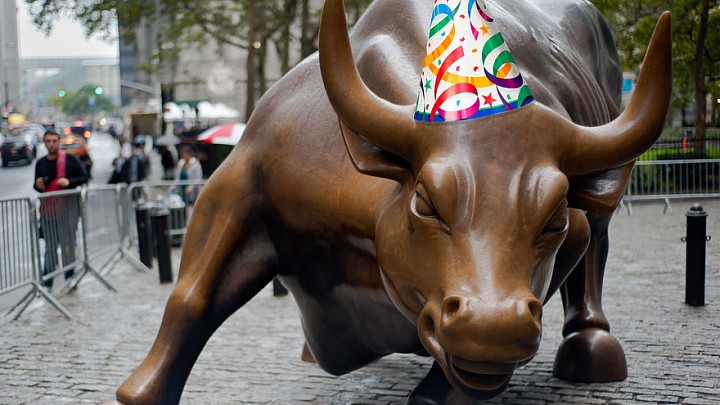 MarketWatch illustration/Shutterstock.com
Eat, drink, and be merry...

Fueled by ample liquidity and surging tech behemoths such as Apple Inc., stocks are on track to celebrate the sixth birthday of the bull market on Monday and the third-longest rally on record at the end of April.
But what would it take to bring down the bull? Inflation, weak earnings and excessive speculation are among the culprits most likely to eventually kill the rally.
"We think the bull market end-game is either inflation hurting bonds, EPS [earnings per share] recession wounding stocks, or speculative excess," said Michael Harnett, chief investment strategist at Merrill Lynch, Pierce, Fenner & Smith, a unit of Bank of America Merrill Lynch.
For now, there are few signs of an imminent cooling in investors' appetite for equities. The bond market has yet to price in the rise in gross domestic product growth and the strong dollar has not dented corporate earnings significantly, he said in an investment note.
In fact, sentiment has become increasingly bullish, and demand for risky assets, such as stocks, is accelerating as liquidity swells on the back of a string of rate cuts--18 so far in 2015--by central banks around the world.
Still, with the S&P 500 SPX, -0.44% starting March on a subdued note, the Federal Reserve's FOMC meeting later in the month is expected to put the focus on the bank's monetary policy stance, especially if Yellen & Co. drops the word "patient" from the forward statement.
In the meantime, superlatives will fly and analysts will reel off a series of factoids on Monday for the bull-market anniversary. Here are a couple more noteworthy landmarks Harnett highlighted in his report:
The S&P 500 will mark its third largest bull market ever when it hits 2,233
With another 14% total return gain, stocks would surpass their internet bubble highs relative to U.S. Treasurys.
Sue Chang