One of the key things to understand about the veritable meltdown that's unfolded across emerging markets is that there's more to the story than the headline risk factors. 
That is, while the list of proximate causes that includes a decelerating China, collapsing commodity prices, and uncertainty over when or even if the Fed will hike goes a long way towards explaining the carnage that's unfolded across EM, each country has its own set of unique circumstances to grapple with. Indeed, the idiosyncratic political risks playing out across emerging economies have taken center stage as Brazil attempts to navigate congressional gridlock, Malaysia struggles with the 1MDB scandal, and Turkey faces new elections in November.
While there's no question that the political situation in Brazil is particularly troubling, it would be difficult to imagine a more precarious scenario than that which exists in Turkey, where President Recep Tayyip Erdogan has managed to subvert the democratic process by starting a civil war, and thanks to the strategic significance of Incirlik, the effort is co-sponsored by the US and NATO.
Of course extreme political uncertainty, a bloody civil war, and an unfolding proxy war just across the border do not inspire much confidence, which helps to explain the fact that Turkey's FX reserves have now fallen below $100 billion for the first time since 2012:
And here's an updated look at the lira which is in the midst of a rather epic decline (which threatens to destabilize inflation) thanks to everything noted above combined with a central bank that either i) doesn't understand the gravity of the situation, or ii) is loathe to hike rates going into the election: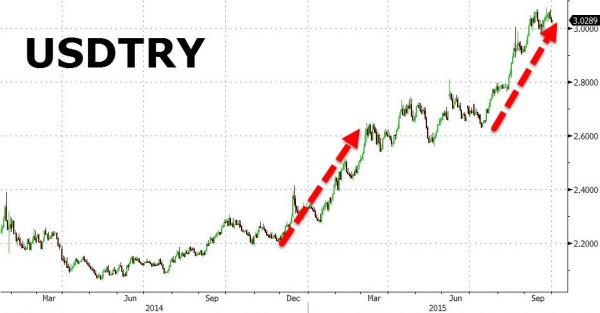 If you think it's bad now, just wait until November. If AKP doesn't secure an absolute majority there's no telling how Erdogan will react and if Ankara moves to nullify yet another democratic election by intentionally stirring up the PKK, you can expect outright chaos. We close by noting that data out today shows Turkey's manufacturing PMI fell for a second straight month in September and we also think it's worth highlighting the following excerpt from The Guardian which provides a bit of insight into what's in store going forward if Erdogan doesn't get his way:
Ahmet Hakan, a columnist for Turkey's leading secular Hürriyet newspaper and a presenter on broadcaster CNN Turk, was followed home from the television station by four men in a black car late on Wednesday, before being assaulted near his residence, according to the Hürriyet editor-in-chief, Sedat Ergin.

 

"We see that it was an organised, planned attack," Ergin was quoted as saying. Hakan was treated for a broken nose and ribs, the newspaper said.

 

The attack comes just weeks after prosecutors launched an investigation into the paper's owner, Do?an Media Group, for alleged "terrorism propaganda".