Flexibility is key for me here. I want to flip my portfolio in either direction based on what it does with the current tight trading range.
Indicators
VIX - Weak day for the VIX and back below 10-mark.
T2108 (% of stocks trading below their 40-day moving average) - Noncommittal yesterday. Still trending lower overall.
Moving averages: 5/10-day moving average keeps weaving above and below each other. 5-day back on top. All the MA's trending higher here.
Industries to Watch Today
Technology really coming around nicely here, the bulls need to put something together here and not let the bears pull the market back at all. Financials still very solid, as is utilities and defense stocks.
My Market Sentiment
Bulls are close to breaking out of the sideways trading action of the last 14 days. I'll be ready to get more aggressive to the long side if that happens. Dow is greatly overextended and that 10-day streak will end sooner rather than later. Nasdaq looks the best.
Large caps > Small caps.
S&P 500 Technical Analysis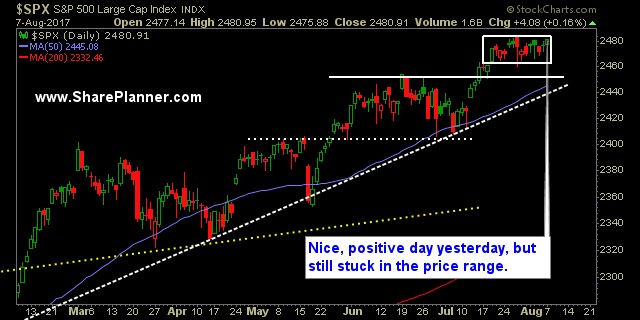 More