Five days ago, when previewing an event that could be the Holy Grail for FX traders in 2015, we wrote:
In the epic alpha vacuum left in the absence of the worst, pardon, best FX "analyst" of all time, Goldman's legendary Tom Stolper, whose perpetual fading helped us and countless readers generate some 10,000+ pips in profits in the years when he was actively crucifying muppets on Goldman's payroll, most were confused how to make profits with absolutely no risk in the FX sapce. And ever since when rading alongside major central banks led to career-ending outcomes as recently as 2 weeks ago, it seemed that the entire FX space was merely populated by algos and other robots who would merely frontrun each other's cluelessness in perpetuity.

 

We are happy to report that the P&L drought may have finally ended, and we have none other than the man many have suggested could be next in line for the title of honorary "Tom Stolper" of the FX realm: BofA's technical strategist MacNeill Curry. Moments ago, Curry came out with a trade reco which is, not surprisingly, just in line with what the vast consensus, and not to mention the Bank of Japan, thinks: long USDJPY, aka the trade that is directly proportional to multiple expansion for the entire US stock market, and number of bankrupt Japanese corporations.
BofA's reco in question:
Buy $/¥ at market (now 117.80), risk 117.25, target 119.78, potentially120.36 

 

For the past week, $/¥ has been caught in a 118.72/117.32 contracting range / Triangle formation. Now, that range is about to complete for a push towards 119.78/120.36. Perhaps most compelling is the risk to the trade. Price should not trade below the Jan-25 low at 117.27. Below here invalidates the bullish setup and results in a larger, choppier range than anticipated. Bigger Picture, we remain BULLISH. The long term uptrend remains incomplete for a push towards 124.16/124.59. Above the Dec-23 high at 120.83 says the long term bull trend has resumed. 

 

 
Our conclusion:
[W]ill USDJPY tumble promptly back down to 117.25 at which point Curry will be Stolpered out, and we can crown the next market-moving "Stolper" whose every reco will be the source of much mirth and joy in the new and improved "bandits" and "cartel" chat room, or will the forces of momentum-chasing vacuum tubes win, and the quest for the next Stolper continue unsuccessfully? We hope to have an answer in the next 2-3 days.
Ironically, it was less than 24 hours after the reco that the USDJPY plunged as low as 117.26 (!) last Wednesday, and yet MacNeill's reco was saved literally by one pip from being stopped out.... if only for another three trading days.
Moments ago, in the illiquid Sunday night pre-market, BofA's "Stolper" was just stolpered stopped out as the USDJPY just tumbled well below 117 on fresh concerns about a Grexit and the biggest Chinese manufacturing slowdown in 2 years, dropping to the lowest level since the SNB announcement in just 3 trading days after Curry's initial recommendation, which incidentally is a record short period of time for a "Stolpering", even for the original Tom Stolper.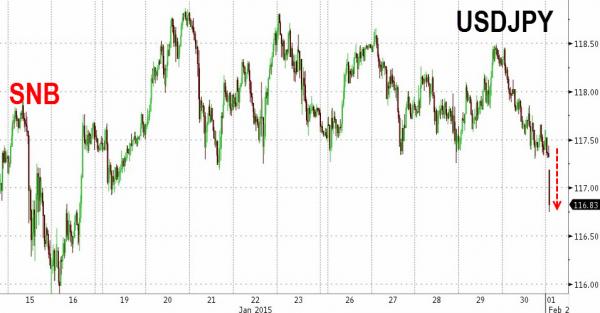 Which is especially ironic considering just hours ago he reiterated his conviction:
Bullish $/¥, but the Jan-28 low is key

 

The setup in $/¥ is very similar to that of the S&P500, albeit on a much shorter time horizon. We look for a bullish resolution to the 8d contracting range (shown in blue) for a push towards 119.78/120.36. A break of the Jan-28 low would invalidate this outlook, opening a deeper decline to 115.99/115.56 before renewed basing. 
Oops.
So here's to you, MacNeil Curry: keep those "recos" coming because in the absence of illegal chatrooms and muppet slayers it was getting a little difficult to make riskless profits day in and out.