Pfizer Inc. PFE announced that the FDA's Oncologic Drug Advisory Committee (ODAC) voted in favor of Mylotarg for the treatment of patients with newly-diagnosed CD33-positive acute myeloid leukemia (AML).
The committee believes that the ALFA-0701 study investigating Mylotarg provides significant evidence supporting the risk benefit profile of Mylotarg in AML. A biologics license application (BLA) was submitted based on data from this study. A FDA decision is expected by Sep 2017.
The ALFA-0701 evaluated the safety and efficacy of Mylotarg, an antibody-drug conjugate (ADC), in addition to chemotherapy in AML. Mylotarg was administered to patients on the first, fourth and seventh day of the treatment.
Shares of Pfizer have risen 2.1% since the beginning of this year, underperforming the Zacks classified Large Cap Pharmaceuticals industry, which increased 10.4% in the same period.

We remind investors that Mylotarg was granted accelerated approval by the FDA in 2000 as a single agent for treating CD33-positive AML in patients who had experienced their first relapse and were 60 years or older. However, 10 years later, Pfizer voluntarily removed Mylotarg from the market as data from a post approval phase III study, SWOG S0106, showed no clinical benefit and rate of fatalities due to treatment-related toxicity was significantly higher.
The currently submitted BLA seeks approval for Mylotarg in two indications, for treating newly-diagnosed CD33-positive AML in combination with standard chemotherapy, and as monotherapy in patients aged over 60 who had first relapse and are not eligible for other cytotoxic chemotherapy. The BLA also includes data from five phase III studies including ALFA-0701, which contains 10 years of research data from 4,300 patients.
Per the press release, AML occurs in nearly 80% of acute leukemia patients and about 21,380 people are estimated to be affected by AML in the U.S. in 2017. Several companies are developing therapies for treating AML. The therapies include Seattle Genetics, Inc.'s SGEN SGN-CD33A and Intrexon Corporation's XON CD33-specific CAR+ T therapy, in collaboration with ZIOPHARM Oncology, Inc. ZIOP. However, despite recent developments there has been little progress in increasing the long-term survival rate in AML patients.
Pfizer, Inc. Price and Consensus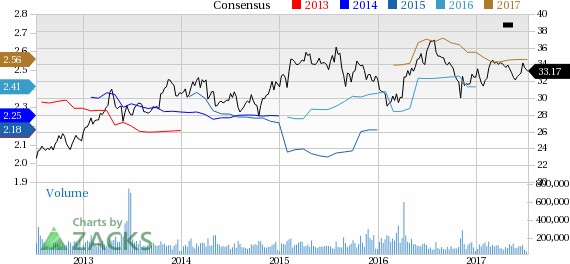 Zacks Rank
Pfizer currently holds a Zacks Rank #4 (Sell).
You can see the complete list of today's Zacks #1 Rank (Strong Buy) stocks here.
More Stock News: 8 Companies Verge on Apple-Like Run
Did you miss Apple's 9X stock explosion after they launched their iPhone in 2007? Now 2017 looks to be a pivotal year to get in on another emerging technology expected to rock the market. Demand could soar from almost nothing to $42 billion by 2025. Reports suggest it could save 10 million lives per decade which could in turn save $200 billion in U.S. healthcare costs.
A bonus Zacks Special Report names this breakthrough and the 8 best stocks to exploit it. Like Apple in 2007, these companies are already strong and coiling for potential mega-gains. Click to see them right now >>
Want the latest recommendations from Zacks Investment Research? Today, you can download 7 Best Stocks for the Next 30 Days.
Click to get this free report
Pfizer, Inc. (PFE): Free Stock Analysis Report
ZIOPHARM Oncology Inc (ZIOP): Free Stock Analysis Report
Seattle Genetics, Inc. (SGEN): Free Stock Analysis Report
Intrexon Corporation (XON): Free Stock Analysis Report
To read this article on Zacks.com click here.